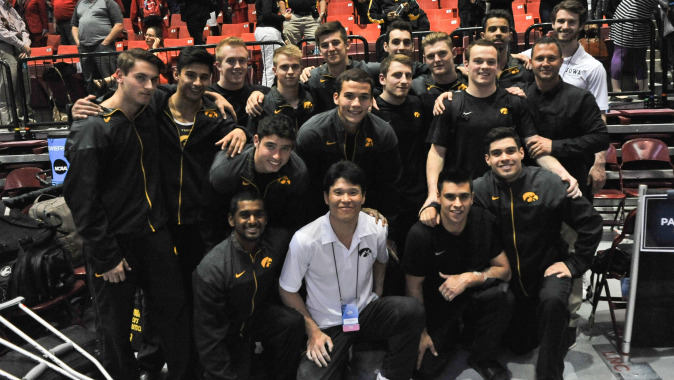 April 20, 2015
Editor's Note: The following first appeared in the University of Iowa's Hawk Talk Daily, an e-newsletter that offers a daily look at the Iowa Hawkeyes, delivered free each morning to thousands of fans of the Hawkeyes worldwide. To receive daily news from the Iowa Hawkeyes, sign up HERE.
BY JACK ROSSI
IOWA CITY, Iowa — As head coach JD Reive continues adding pieces to his team, consistency is beginning to show and a sixth place finish in the country shows the University of Iowa men's gymnastics team is heading down the right path.
For the second time three seasons, the Hawkeyes made team finals at the NCAA Championships, finishing as one of the top teams in the country.
"We showed up as a unit," Reive said. "It was one team that showed up and we haven't done that, in that sense, since I have been here. It was a huge cultural shift for them. "
During the NCAAs weekend — one that included two team competitions and an individual competition — Iowa set season-high scores on three events and had an All-American named for a third straight year. Reive says the individual honors won't be there if the team doesn't come first.
"This is about the team," Reive said. "All individual benefit comes from the team being put first and foremost. Once they understand that, everything will be better for them and the program will grow."
A fifth place finish in 2013 and a sixth place finish this season shows a new standard being set for the Hawkeyes moving forward.
"This year's finish needs to become standard for us," Reive said. "At this program's base, we go to the NCAA team finals, and we should always be top six in the country.
"The new goal is to not have so many ups and downs throughout the season. We want to establish ourselves in the top three and stay there for the duration of the season."
The Iowa coaches are already looking toward next season by projecting where each gymnast will be a year from now and what skills they can acquire to maximize their production in the new practice facility opening this summer.
"We've already started the process of mapping out their skills," Reive said. "A lot of this stuff takes a year to acquire. Similar to your four-year academic plan, we do the same with gymnasts."
The plan for each gymnast includes skills that the gymnast wants to learn along with skills the coaches feel is best for that individual moving forward and one final skill is added to make the gymnasts' routine as unique as possible.
"We want to pick one unique element that you don't see anybody do," Reive said. "Every routine looks a bit similar, but we want to pick something that helps each guy stand out and the challenge this summer is finding something for each kid that makes them stand out from the other gymnasts on the floor."