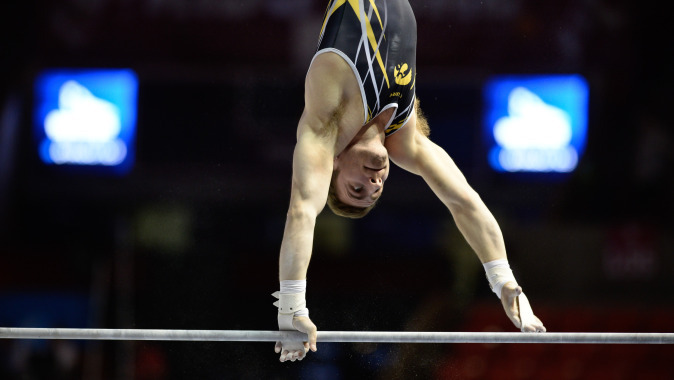 April 21, 2015
NCAA CHAMPIONSHIPS:
The Hawkeyes made team finals for the second time in the last three seasons, and finished sixth in the nation with a score of 427.450 at the NCAA Championship in Norman, Oklahoma, on Friday, April 10. In the qualifier, Iowa placed third with a score of 435.050, upsetting No. 5-ranked Illinois to secure the final spot in the team finals. The team set a new season high on high bar (72.200) and on floor exercise (73.550) during championship weekend. Junior Jack Boyle was the only Hawkeye who qualified for individual event finals, performing on high bar. He scored a 14.850 and placed sixth to earn All-American honors for the first time in his career.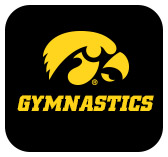 BIG TEN CHAMPIONSHIPS:
Iowa placed sixth in the 2015 Big Ten Championships held at State College, Pennsylvania, with a team score of 427.600. Five gymnasts qualified for individual event finals competition including Jack Boyle, Matt Loochtan, Doug Sullivan, Austin Hodges and Cyrus Dobre-Mofid. Sullivan was the top performer in finals, placing third on pommel horse with a score of 14.800. He was honored with second team All-Big Ten recognition following the event. Hodges, Iowa's other competitor on pommel horse, placed seventh with a new career high score of 14.575. The duo of Boyle and Loochtan competed on rings and placed sixth and seventh, respectively. Dobre-Mofid was the only Hawkeye competing on parallel bars. He posted a score of 14.575, placing sixth on the event. Junior Del Vecchio Orozco won the Sportsmanship Award.
BOYLE MAKES NATIONAL NOISE:
At the NCAA Championships on April 11, junior Jack Boyle was named an All-American on high bar, after placing sixth with a 14.850. This is Boyle's first All-American honor. He becomes the 87th All-American in Iowa men's gymnastics history BOYLE NAMED CO-BIG TEN GYMNAST OF THE WEEK: Boyle was named Co-Big Ten Gymnast of the Week following Iowa's win over UIC on Jan. 24. He contributed two event titles — on rings (15.400) and floor (14.750) — and finished second on parallel bars (14.400). It is Boyle's first weekly honor of his career and the first for the Hawkeyes since Matt McGrath earned the award on March 17, 2014.
SULLIVAN NAMED SECOND TEAM ALL-BIG TEN:
Junior Doug Sullivan ended the regular season with a 10th place result in the country on pommel horse. He posted an average score of 14.917 with event titles at the Windy City Invitational (14.900), against UIC (14.950), and at Illinois (14.850). At the Big Ten Championship, Sullivan was named All-Big Ten on pommel horse with a score of 14.450.
6 HAWKEYES SET CAREER HIGHS ON VALENTINES DAY:
At a February 14 meet in Iowa City, the Hawkeyes set six career-highs and came from behind to defeat Minnesota and Nebraska on Senior Night. Iowa set a season high on parallel bars with a score of 72.800. Cory Paterson (14.400), Matt Loochtan (14.800) and Dylan Ellsworth (14.500) all set career highs on the event. Paterson also set a career high on high bar with a 14.900.
LOOCHTAN COMPETES IN WINTER CUP FINALS:
The Iowa men's gymnastics team sent Matt Loochtan to represent the Hawkeyes at the Winter Cup Challenge in Las Vegas, Nevada, on February 20-22. Loochtan qualified for finals following a 15.010 on vault, finishing fourth overall. In finals, he scored a 14.900, to place fourth overall on vault with a combined score of 30.010. Loochtan's other efforts included a 14.600 on floor for eighth place, a 13.650 on rings, and a 13.250 on parallel bars.
IOWA SETS SEASON HIGH TEAM SCORE:
In a February 27 meet at Penn State the Hawkeyes set a new season high team score with a 435.750. Despite the performance, Iowa fell to Penn State. Junior Jack Boyle won the high bar competition, scoring a season high 14.900. Junior Cyrus Dobre-Mofid won the event title on parallel bars and set a career-high with a 15.150 effort.
3 FRESHMEN CONTRIBUTE:
Iowa saw its three freshmen come in and contribute immediately. Dylan Ellsworth, Austin Hodges and Elijah Parsells were all regulars in the lineup. Ellsworth competed on rings, vault, and parallel bars. He posted a season high 14.800 on vault, for third best on the team, while Hodges and Parsells recorded their best scores on pommel horse. Parsells, a specialist on the event, scored a season high 14.750 for second best on the team behind Sullivan and Hodges' 14.575 was third best.
HAWKEYES RETURN ALL BUT 3:
The team has three departing seniors — Lance Alberhasky, Brandon Field and William Albert. Alberhasky, an Iowa City native, is a fifth year senior who competed all-around for the Hawkeyes and was team co-captain in his final two seasons. Field competed floor, vault, and high bar. He led the team on floor during a February 14 meet against Minnesota and Nebraska. Albert competed rings and vault. He finished second on rings during a March 15 meet against Minnesota, Penn State and Nebraska.
ALL-TIME ALL-AMERICANS:
The Hawkeyes have 87 All-Americans in the program's history. Iowa has had an All-American in each of the past three seasons. The most the team has had in a single season was seven (1996) and the last time the team had a gymnast earn All-American status on multiple events was 2013 (Javier Balboa, rings, all-around). Matt Loochtan is the other Hawkeye on the team to have be named an All-American.
HEAD COACH JD Reive:
With a roster full of his recruits, fifth-year head coach JD Reive found success in 2015. The team qualified for team finals at the 2015 NCAA Championship and placed sixth in the country. Reive has led the Hawkeyes to team finals in two of the past three seasons including a fifth place finish at the NCAA Championships in 2013 — the program's best finish in a decade. Reive graduated from Nebraska in 2000 with a bachelor of journalism degree and was an assistant at Stanford from 2003-10, where he helped the team grab four top three finishes in the country.
SUMMER EXPERIENCE:
Summer experience has helped the University of Iowa men's gymnastics program excel and elevate its performance in the Big Ten and NCAA Championships. Last summer, Iowa had multiple gymnasts compete in summer competitions. Sophomore Cory Paterson began the summer at the Canadian National Championships in May, where he was named Canadian National Champion on high bar, with a score of 13.850. Juniors Jack Boyle and Matt Loochtan qualified for the P&G Championships in the senior division, while freshman Austin Hodges competed in the junior division. Loochtan scored a 14.900, for ninth place on high bar, while Boyle earned eighth place on rings with a score of 14.950.
6 GYMNASTS HONORED BY PCA:
Six gymnasts were honored by the PCA (Presidential Committee for Academic Awards) in 2015. Cyrus Dobre-Mofid, Andrew Botto, Zach Wendland, Cory Paterson, and Caleb Fischle-Faulk were honored at halftime of the Iowa vs. Maryland men's basketball game on February 8. Each year the PCA honors student-athletes who have achieved a 3.0 GPA and are letterwinners. The PCA is responsible for advising the UI President and director of athletics Gary Barta on policies for the University's intercollegiate athletics programs, and recognizes student-athletes for their accomplishments in and out of the classroom.
ACADEMIC ALL-BIG TEN:
Iowa had eight gymnasts named to the 2015 Big Ten Winter Academic All-Conference team. William Albert, Andrew Botto, Jack Boyle, Cyrus Dobre-Mofid, Caleb Fischle-Faulk, Cory Paterson, David Spanier and Zach Wendland were named on the list. To be considered, gymnasts must be a letterwinner, in their second academic year, and maintain a GPA of 3.0 or higher.