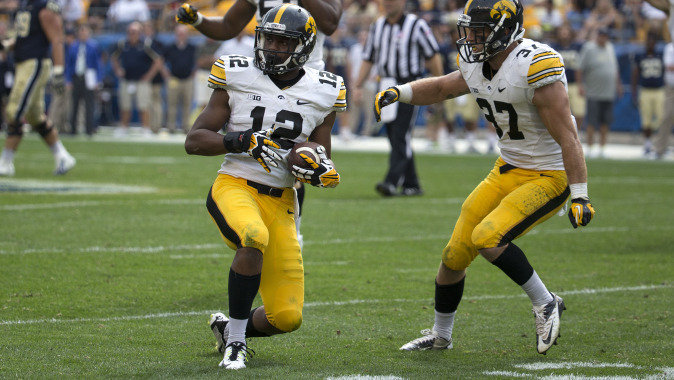 April 21, 2015
The following article was written by Tom Snee of IowaNow.
Andrew Shao has delivered his elevator pitch dozens, maybe hundreds of times, and pretty much has it down pat by now. But things will be a little different when he delivers it on April 23.
In part, because he'll be doing it in front of an audience packing the Main Lounge in the Iowa Memorial Union. And in part because among the venture capitalists he'll pitch to is Daymond John, founder of the FUBU urban apparel company and star of ABC-TV's "Shark Tank."
John will speak about entrepreneurialism on Thursday, April 23 with his lecture, "Five SHARK Points: Fundamental Keys to Business and Personal Success," starting at 7 p.m. in the Main Lounge of the Iowa Memorial Union. Following the lecture, he'll be part of a panel of venture capitalists who, in Shark Tank style, will hear pitches from four UI student entrepreneurs, analyze their businesses, and possibly invest in them.
"I'm going into it with no expectations," says Shao, an Ames native and business major who will pitch his business, Test Buddy, which designs and sells an extender that adds space to a classroom desk. "I'm hoping to get some experience and feedback and see what happens."
Along with Shao, the other UI student entrepreneurs who will pitch to the venture capitalist panel are Anthony Gair, also a business major, who will pitch his business, Track Slides, which makes cleat covers for track shoes; and Emily Roberts and Chen Cui, whose business, Western Wise, provides personalized English language internet-based tutoring to children in China. Roberts is a business and Spanish double major, and Cui is a doctoral student in computer science.
"I'm feeling pretty good about it, practicing my pitch a lot, and watching episodes of "Shark Tank," says Roberts, who enjoys the show but is too busy to watch it more often than once in awhile.
The panel is more than just John, though. The student entrepreneurs will also be pitching to John Pappajohn, a UI business graduate and UI benefactor and Des Moines venture capitalist; Tom Bedell, a Spirit Lake entrepreneur and benefactor of the Bedell Entreprenurial Learning Laboratory, the university's student business incubator; and Sarah Gardial, dean of the Tippie College of Business.
And while pitching to an all-star entrepreneur like John is a great opportunity, the students say the other panelists are just as star worthy, even though none have a TV show.
"Between them, this is a chance to get valuable feedback and validation for our business plan," says Roberts. It might also cause some heartburn, as Pappajohn has a reputation for incisiveness.
"He asks really tough, pointed questions," Shao says. "But I've done a lot of these, so I'm pretty calm about it. For now, at least."
The four entrepreneurs will come to the stage from different routes. Shao had the idea for his business when he realized the space on classroom desks was so small he was constantly rearranging materials during a test to find the space to write, to the point where he would occasionally not be able to finish the exam.
Roberts came up with Western Wise when she was a writing tutor in the Tippie College of Business' Frank Writing Center and many of her clients from China expressed frustration with their limited English communication skills. She eventually met Cui, a Chinese native, by chance at a networking event sponsored by the John Pappajohn Entrepreneurial Center. Together they developed the business to teach English to Chinese children at a young enough age when they can grasp it more fully.
Gair, a Hawkeye football player who also ran track in high school, started Track Slides to prevent the damage that's caused to cleats when the athlete walks across concrete or asphalt. He invented a cap that prevents direct contact of the cleat with pavement.
John's lecture concludes a day of events from the Hawkeye Innovation Summit, which will bring the UI's most innovative, faculty, staff and students together in one place to celebrate successes, inspire new creations, and encourage networking for future collaborations. The summit will be held from noon to 4 p.m. Thursday, April 23, in the Second Floor Ballroom of the IMU.