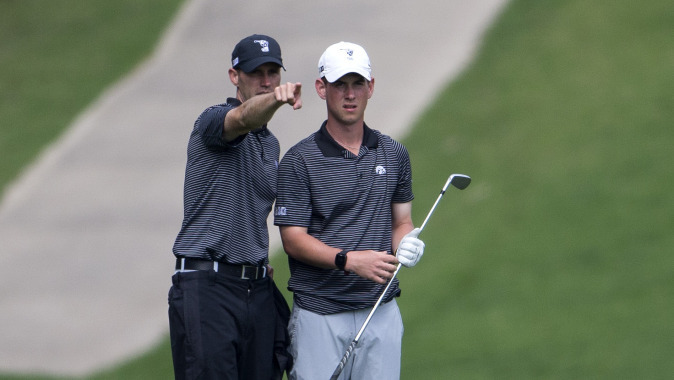 April 23, 2015
Editor's Note: The following first appeared in the University of Iowa's Hawk Talk Daily, an e-newsletter that offers a daily look at the Iowa Hawkeyes, delivered free each morning to thousands of fans of the Hawkeyes worldwide. To receive daily news from the Iowa Hawkeyes, sign up HERE.
BY SAM STYCH
IOWA CITY, Iowa — After taking third at each of the last two Big Ten Championships, the second-seeded University of Iowa men's golf team believes its experience can help make a run at the title in 2015.
The Hawkeyes quest for a conference title begins Friday when they tee off at the Victoria National Golf Club in Newburgh, Indiana. With five of the eight players on Iowa's roster having competed at the Big Ten Championships before, UI head coach Tyler Stith believes that gives the Hawkeyes an edge over their opponents.
"Going there with five guys that have already competed at the Big Ten Championships before is very important," said Stith, who is in his first season as Iowa's head coach. "That gives us an advantage.
"Experience plays a key role in an event like this because the atmosphere is different. If we do good job of managing ourselves and eliminating distractions, while continuing to do all the things we have worked on all year, we will be successful."
The Hawkeyes are led by a pair of seniors that have a combined five Big Ten appearances. Ian Vandersee, who will be playing in his fourth Big Ten Championship, tied for seventh at +11 last season, while Brian Bullington will be making his third.
Iowa will also be counting on solid performances from sophomores Carson Schaake and Raymond Knoll — two potential All-Big Ten honorees. Schaake and Knoll have combined to lead the team in 5-of-8 events this year.
Schaake has three top-five finishes, including a tie for fourth at last weekend's Hawkeye-GRE Invitational, where he matched his career-best performance, while carding a six-under-par 66, the best 18-hole score of his career.
Even with the experience on Iowa's side, Stith insists the team must remain focused on the present.
"We can't allow ourselves to think ahead," said Stith. "We have to make sure we do all the right things leading up to the event and believe the work we have put in up to this point is good enough to help us perform the best that we can."
First round action begins Friday at 9 a.m. (CT). Teams play 36 holes Friday and 18 holes Saturday. The 72-hole event concludes on Sunday with the final 18 holes.
"All of our guys are improving each week, and I expect us to continue that trend this week," said Stith. "It's going to be a long weekend, but I hope that on Sunday we are in a position to make a run at the title and come home Big Ten champions."