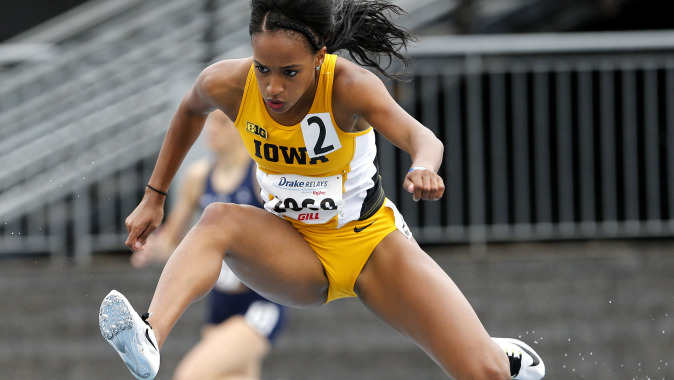 Photo Gallery

April 24, 2015
Final Results

DES MOINES, Iowa — University of Iowa track and field junior MonTayla Holder captured silver during the second day of action at the Drake Relays on Friday. The event was held at the Jim Duncan Track and the Johnny Bright Field in Des Moines, Iowa. The men stand fourth (5 points) in team rankings after eight events scored.
Holder saw familiar competition in the women's 400-meter hurdle final. Alexis Franklin of Ohio State took the title in 57.40, while Holder collected a runner-up finish in 58.41. The pair went second and third at last year's Big Ten Outdoor Championships.
"It was a bittersweet race," Holder said. "I haven't run for two weeks because of an injury, so I was happy to come out on the track and run in the 58-second range. It was difficult to lose to Franklin because we have been battling for two years, but hopefully at Big Tens we will be going back-to-back and fighting to the end."
Also making final appearances in their respective events were juniors Sam Joens and Dakotah Goodell. Joens threw a season best 206-9 (63.03m) in the men's javelin to finish sixth overall. That mark would rank eighth in the conference. Goodell (155-11, 47.53m) gathered a ninth-place finish, respectively, in the women's discus throw.
Sophomore Katharina Trost (8th) clocked a collegiate outdoor best in the women's 800 meters when she cruised to the finish in 209.03. She continues to stand ninth on Iowa's all-time list and would move to the same spot in the Big Ten.
The Hawkeyes send one relay and four individuals to the finals on Saturday.
Iowa returns three members to its winning women's 400-meter relay from a year ago. The quartet of junior Kassidy Ellis, sophomore Elexis Guster, junior Lake Kwaza, and sophomore Brittany Brown qualified to tomorrow's final at 10:58 a.m. (CT) with the fifth-fastest preliminary time (45.07).
The team of Kwaza, Guster, sophomore Alexis Hernandez, and Brown took the title at last year's event in a school-record setting time of 44.51.
The Hawkeyes have three finalists in the 100 meters. Kwaza (11.771) and Brown (11.774) raced neck-and-neck in the women's race, clocking the sixth- and seventh- fastest preliminary times to advance to tomorrow's final at 2:07 p.m. (CT).
Sophomore Vinnie Saucer, Jr. was an automatic qualifier in the men's 100 meters after winning his heat in 10.76. The gun will go off at 2:12 p.m. (CT).
"Having all of them in the final is great representation of our sprint program," director of track and field Joey Woody said. "I think the women's team will do something special tomorrow."
Sophomore Aaron Mallett moves on in the men's 110-meter hurdles when he logged the second-fastest preliminary time of 14.05. The event begins at 2:24 p.m. (CT).
The men's 3,200-meter relay brought the Hawkeye fans to their feet. The quartet of freshmen Carter Lilly (Sioux City, Iowa) and Ryan Dorman (Iowa City, Iowa), junior Will Teubel (Lisbon, Iowa), and senior Brennan Davey (Indianola, Iowa) posted the fourth-fastest time in school history and on the evening at 7:31.48.
"That was four Iowa guys that ran together," Woody said. "I think the last time Brennan ran an 800 was in high school, so it was something we threw together last minute. It was great for them to see what we are capable of doing; I am looking forward to seeing what those guys can do tomorrow."
Competition at the Blue Oval resumes Saturday at 8:30 a.m. (CT).
Relays:
W 400-Meter Relay K. Ellis, E. Guster, L. Kwaza, B. Brown (Qualify/45.07)
M 400-Meter Relay V. Saucer, A. Mallett, B. Thompson, K. Brown (9th/40.61)
W 1,600-Meter Relay S. Champe, M. Holder, B. Brown, E. Guster (14th/3:43.40)
M 1,600-Meter Relay M. Wolff, A. Mallett, N. Aly, B. Davey (10th/3:08.76)
W 3,200-Meter Relay K. Nelson, S. Maser, T. Wilberding, A. Reischmann (12th/9:07.51)
M 3,200-Meter Relay C. Lilly, R. Dorman, W. Teubel, B. Davey (4th/7:31.48)