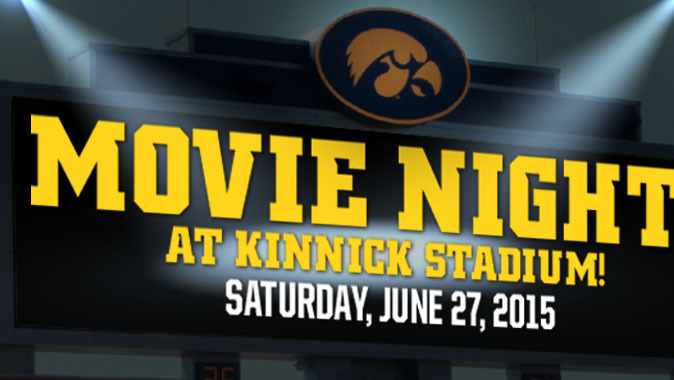 April 25, 2015
IOWA CITY, Iowa – The UI Athletics Department will open the gates to historic Kinnick Stadium on a Saturday night in June, but it won't be for a football game. Instead fans will be invited to throw a blanket on the artificial turf and enjoy a movie on the biggest screen in the state of Iowa.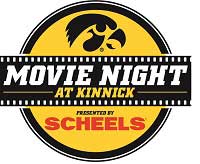 The UI's inaugural "Movie Night at Kinnick" presented by Scheels will be staged Saturday, June 27. Admission will be free. Final details will be released next month, but it is anticipated that the movie will begin at 7:30 p.m.
Guests will have access to the playing field, as well as the north and west grandstands. A limited selection of items will be available for purchase from the concessions stands, however, fans will only be allowed to bring bottled water on the playing field.
Fans will vote between three award-winning movies. Voting begins Saturday, April 25 at noon and concludes on Friday, May 8 at 5 p.m. Fans can only vote once at hawkeyesports.com/movienight. Fans will choose between the following three movie options:
Remember the Titans starring Denzel Washington — The year is 1971. After leading his team to 15 winning seasons, football coach Bill Yoast is demoted and replaced by Herman Boone, a tough, opinionated, and very different from the beloved Yoast. How these two men overcome their differences and turn a group of hostile young men into champions plays out in a remarkable and winning story.
Field of Dreams starring Kevin Kostner — Iowa farmer Ray Kinsella hears a voice in his corn field tell him, "If you build it, he will come." He interprets this message as an instruction to build a baseball field on his farm, upon which appear the ghosts of Shoeless Joe Jackson and the other seven Chicago White Sox players banned from the game for throwing the 1919 World Series. When the voices continue, Ray seeks out a reclusive author to help him understand the meaning of the messages and the purpose for his field.
Big Hero 6 (Animation) — From Walt Disney Animation Studios, the team behind "Frozen" and "Wreck-It Ralph," comes "Big Hero 6," an action-packed comedy-adventure about the special bond that develops between Baymax, a plus-sized inflatable robot, and prodigy Hiro Hamada. When a devastating event befalls the city of San Fransokyo and catapults Hiro into the midst of danger, he turns to Baymax and his close friends adrenaline junkie Go Go Tomago, neatnik Wasabi, chemistry whiz Honey Lemon and fanboy Fred. Determined to uncover the mystery, Hiro transforms his friends into a band of high-tech heroes called "Big Hero 6."