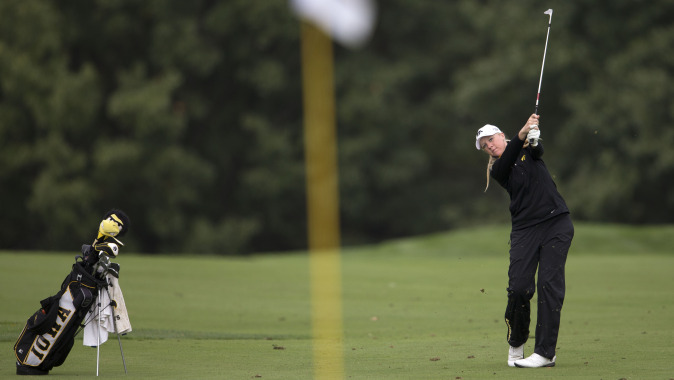 April 26, 2015
Final Results

INDIANAPOLIS — The University of Iowa women's golf team concluded its' spring season at the Big Ten Championships Sunday, finishing 10th overall.
After posting rounds of 305 (+17) and 303 (+15), the Hawkeyes were able to improve during round three with a 302 (+14). Iowa tallied a 54-hole score total 910 (+46). Northwestern and Ohio State both took home a share of the Big Ten title with a score of 863 (-1).
"We certainly did not compete the way we were hoping coming into the tournament, but we are a young team. I believe we can take many good things away from this weekend," said UI head coach Megan Menzel.
Jessie Sindlinger carded the best three-round finish of the weekend for the Hawkeyes. The sophomore improved greatly from round two to round three posting a total 226 (+10), tallying rounds of 77, 78 and 71. She birdied three of the final 18 holes of the competition, finishing the weekend tied for 32nd.
Shelby Phillips was able to finish just behind her teammate, tied for 36th. Phillips registered a second round 76 (+4) before ending with another 76 (+4) in the third round. She carded a three round total 227 (+11).
Freshman Jessica Ip tallied a total 228 (+12), posting rounds of 78, 73 and 77. Ip had her best round in the second, and finished tied for 41st, one stroke behind Phillips.
Junior Amy Ihm registered a total 229 (+13), including rounds of 75, 76 and 78. She made par on 12 of the final 18 holes, while also birdieing hole 18. She finished tied for 46th.
Elisa Suarez ended the weekend with a three round total 237 (+21), with rounds of 78, 80 and 79. Rounding out the Hawkeyes' squad was freshman Morgan Kukla who carded a total 242 (+26), posting rounds of 79, 84 and 79.
"We have a lot of hard work to put in between now and August to make the jump," added Menzel.
Iowa's season ended Sunday but it has plenty to build on heading towards the future.