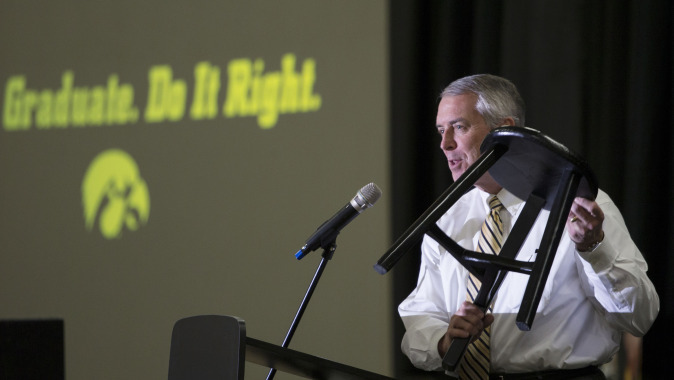 April 28, 2015
IOWA CITY, Iowa — Two years ago when UI Director of Athletics Gary Barta sat down for an exclusive interview with the editorial staff of Hawk Talk Monthly, he repeated one of his guiding mantras: "Hope is not a strategy."
As the person in charge of the state of Iowa's largest intercollegiate athletics program, Barta prefers to work off a thoroughly-vetted plan. Today, he's pleased to see that significant pieces of the plan he and the staff of the UI Athletics Department have worked to put in place are paying off as confirmed by the recent release of standings for the annual Learfield Directors' Cup in which Iowa ranks 31st among its peers nationally. For more information and to review the current standings, visit thedirectorscup.com.
"We're enjoying success, but we're never satisfied. We're always trying to get better," Barta said during the hour-long visit with HTM staff.
What follows is an edited excerpt of a portion of this year's "One-on-One with Gary Barta." A transcript of the full interview will be available later this week inside the May 2015 edition of Hawk Talk Monthly presented by Transamerica.
HTM: Is there anything you'd like to add?
GARY BARTA: Yes. Let's go back to "Win. Graduate. Do it Right."
We're certainly enjoying successes in all three areas this season, but our work is never done. We have outstanding coaches mentoring outstanding student-athletes and a department filled with talented staff eager to make certain the young people in our sports programs are having the very best experience possible. That happens when everything comes together and that includes support from alumni, fans, and other friends of the institution which, at the UI, is always outstanding. I say this often and I believe it, as good as it may be right now – and we are, as I said, having a great year – our best is yet to come.
A couple summers ago we polled our season ticketholders and had them rank order in importance, Win. Graduate. And doing it right. Graduation and doing it right always ranked higher than winning and ranked higher still among those fans who were both season ticket holders and contributors to the National I-Club.
Now, of course, we all know that winning is important and exciting and it certainly captures more attention of the media locally, regionally and nationally, so that's why I'm excited for everyone in our program that we're having the competitive success that we are right now. I'm also excited because I believe the foundation has always been strong and now it's getter stronger and that should give all fans of the Hawkeyes plenty of reason for optimism.
As I noted earlier, our plan is achieve at a high level in the classroom, contribute to our community, and to compete for championships. To compete for championships you need superior coaches and superior student-athletes. Then, you have to provide these very talented people with the tools they need to achieve and that's where facilities and other resources are important.