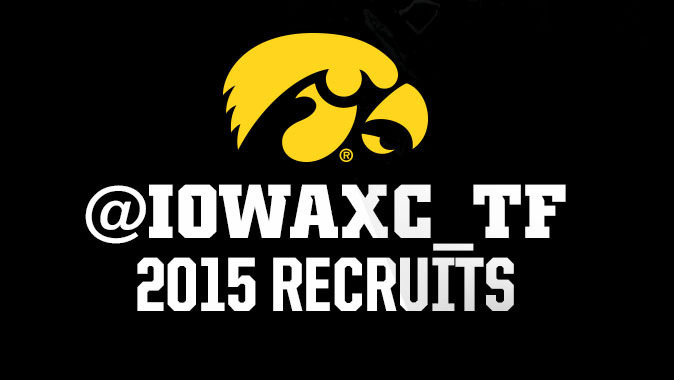 April 29, 2015
IOWA CITY, Iowa — The University of Iowa track and field program announced Wednesday that 22 men and seven women have committed to join the Hawkeyes in the fall of 2015.
"We are extremely excited about our spring recruiting class and welcoming this group to the Hawkeye family," said UI director of track and field Joey Woody. "Our coaching staff did a tremendous job of attracting some of the best prospects from across the country to join our program. Every one of these student-athletes is driven by the opportunity to compete at the highest level of collegiate athletics."
The Hawkeyes added two sprinters on the men's side, Christian Brissett and DeJuan Frye, and two sprinters on the women's side, Taylor Chapman and Briana Guillory.
Iowa signed a pair of men for the mid-distance group, Pavlo Hutsalyuk and Nolan Tuebel, and a pair of multi-event athletes, Gage Eller and Collin Hofacker.
The throws group includes Nia Britt in the shot put and Brandon Leacraft in the javelin, and the field events include Andy Jatis in pole vault and Erik Miller in high jump.
UI head cross country coach Layne Anderson signed 17 athletes to add depth to the distance group. They include Mike Destache, Andrew Dixon, Ian Ecklin, Bryan Fogerty, David Kampf, Kallin Khan, Eric Lenz, Christian Moore, Cole Mullins, Daniel Murphy, Charles Nash, Daniel Soto, and Dylan Southall on the men's side; and Ashely Espinosa, Maaike Frerking, Abby Sears, and Andrea Shine on the women's side.
"We were fortunate to fill some needs of our program, and continue to attract good character student-athletes who are committed to academic and athletic success," added Woody. "I believe this year's recruiting class will have an immediate impact in the Big Ten and NCAA."
Iowa's 29 spring recruits join the four incoming student-athletes that committed to the Hawkeyes in the fall. They include Drake Gautier (sprints), Bailey Hesse-Withbroe (distance), Mar'yea Harris (sprints), and Lauren Opatrny (distance).
Christian Brissett – Sprints – Wyncote, Pennsylvania (Cheltenham)
2014 Pennsylvania state champion in 200 meters, placed third in 100 meters.
60 meters: 6.82
100 meters: 10.62
200 meters: 21.46
Coach Woody on Brissett: "Christian is an athlete who caught my attention at the AAU Junior Olympic meet last year. He continued to impress me during the indoor season with his state championship performances, and winning the high school Millrose games 60 meters against some of the best sprinters in the country. Christian is a big-meet performer and knows how to win. He has a tremendous work ethic, and will add great depth to a young and talented sprint group."
Nia Britt – Throws – Sherman Oaks, California (Notre Dame)
Top shot-putter in the nation among 2015 recruits.
Shot Put: 49-11.25
Coach Dubs on Britt: "Nia is one of the top shot putters in the country and is an outstanding addition to our team. She has incredible athleticism and physical understanding of the event. Having recruited her for the past two years, I can tell you Nia is even a better person than she is a thrower. She will fit in right at home here at Iowa and have an immediate impact in both the Big Ten and NCAA."
Taylor Chapman – Sprints – Perkasie, Pennsylvania (Pennridge)
60 meters: 7.51
200 meters: 24.49
Coach Roberts on Chapman: "We added Taylor to provide quality depth to our short sprints group. One of Coach Woody's philosophies is to win track and field meets with speed and power and we feel like she can help us do that. She has had success nationally and I think she will be a player in the Big Ten scene fairly soon."
Andrew Dixon – Distance – Bettendorf, Iowa (Pleasant Valley)
800 meters: 1:53
5,000 meters XC: 15:58
Coach Anderson on Dixon: "Andrew Dixon brings the element of speed that opens up a lot of doors as a distance runner. He arrives as a middle distance runner who over time will develop his range to a level that his natural foot speed will be a real weapon for him in racing. I see a big upside with him as a collegiate distance runner."
Gage Eller – Multi-events – Ames, Iowa (Ames)
Coach Jones on Eller: "Gage is relatively new to track and field and has already made his mark in Iowa. If he continues on this path, he will have no trouble being a contender in the conference in the multi-events very soon."
DeJuan Frye – Sprints – Lacey, Washington (River Ridge)
2014 Washington state champion in 400 meters, placed third in 200 meters. 100 meters: 10.69
200 meters: 21.82
400 meters: 47.72
Coach Wakenight on Frye: "Dejuan is an amazing young man. I love how competitive he has been over the course of his career. Being the Washington state champion in the 400 meters as a junior makes him one of the most elite sprinters in the country and gives us a chance to move our sprints forward to the top of the Big Ten. I can't wait to coach him. He is going to be a very special Hawkeye."
Briana Guillory – Sprints – Antioch, California (Deer Valley)
100 meters: 11.83
200 meters: 23.93
400 meters: 55.69
Coach Roberts on Guillory: "One of our focuses this year was to add quality depth to our current sprint group, and Briana is a versatile athlete that does just that. She can run the 100, 200, 400, and 4×1 and 4×4 relays. Any athlete that can do that makes our team better. Her versatility is definitely her strength."
Collin Hofacker – Multi-events – Freedom, Wisconsin (Freedom)
Coach Jones on Hofacker: "Collin is a stellar four-sport athlete who is coming in to concentrate on the multi-events. I cannot wait to see how Collin grows over his time here as a track athlete. I believe he is capable of really big things."
Pavlo Hutsalyuk – Middle Distance – Chicago, Illinois (Lane Tech)
2014 Illinois state qualifier in 800 meters.
800 meters: 1:49.90
1,600 meters: 4:17.85
Coach Wakenight on Hutsalyuk: "Pavlo has been floating under the radar but I think people in Illinois know who he is and what an awesome force he is going to be. I watched him split 1:49.90 at the New Balance National meet and knew he was a guy we needed in our mid-distance group. He is a versatile athlete and is going to be able to push our mid-distance group up amongst the elite teams nationally."
Andy Jatis – Pole Vault – New Lenox, Illinois (Providence Catholic)
Placed third at 2014 Illinois state meet
Pole Vault: 16-3
Coach Jones on Jatis: "Andy has already had a huge senior year in the pole vault. He is right on track to be an immediate Big Ten performer and potential school record holder down the road. Andy will be a huge asset to our program and will help the pole vault get more recognition in Iowa."
Brandon Leacraft – Javelin – Royersford, Pennsylvania (Spring Ford)
Javelin: 195-5
Coach Dubs on Leacraft: "Brandon will be a fantastic addition to our team. I am excited to see what he will be able to accomplish once he arrives and begins training all year round. Brandon committed to our program on his official visit, and we were his first visit. That shows how excited he is about being a Hawkeye and that he immediately saw the direction we are going as a program and all that we offer academically."
Eric Lenz – Distance – Tipton, Iowa (Tipton)
Iowa state cross country champion
Coach Anderson on Lenz: "Eric Lenz brings a blue-collar mindset and a toughness as a state runner-up in wrestling that is unique to distance running. He has a real capacity with regard to his training volume that is equally matched by his desire for success."
Erik Miller – High Jump – St. Charles, Illinois (St. Charles North)
2014 Illinois state runner-up in high jump
High Jump: 6-10
Coach Jones on Miller: "Erik has the ability to come in and score from Day 1 in the high jump. We are really excited to see what he is capable of and I am especially excited to work with such a motivated and genuine person."
Daniel Murphy – Distance – Marion, Iowa (Linn Mar)
Coach Anderson on Murphy: "Daniel Murphy is one of the state's top runners. With a personal best of 9:12 for the 3,200 and the potential to improve he can be an impact guy as early as his freshman year."
Charles Nash – Distance – Deerfield, Illinois (Deerfield)
1,600 meters: 4:19
Daniel Soto – Distance – West Des Moines, Iowa (Valley)
2014 Iowa state cross country champion
Coach Anderson on Soto: "Daniel Soto is the state cross country champion and a student-athlete who will add talent and depth to our cross country and track and field programs. He is versatile with regard to his ability to develop his running talents as high as the 10k over the course of his career and a name to watch for in the future."
Nolan Teubel – Middle Distance – Mt. Vernon, Iowa (Mt. Vernon)
Placed seventh at 2014 Iowa state meet in 800 meters, ninth at state cross country
800 meters: 1:54 (relay split)
Coach Wakenight on Teubel: "Nolan is an athlete I am extremely excited about. Having played other sports, he is an extremely competitive kid who really stepped up and took his abilities to the next level by finishing in the Top 10 at the state cross country meet. I knew it was a sign of big things to come for Nolan on the track. He has established himself as one of the elite mid-distance runners in the state of Iowa."
Mike Destache – Distance – St. Paul, Minnesota (St. Paul Academy & Summit School)
1,600 meters: 4:26
5,000 meters XC: 15:48
Ian Ecklin – Distance – Plymouth, Minn. (Wayzata)
1,600 meters: 4:24
Bryan Fogerty – Distance – Marion, Iowa (Linn-Mar)
David Kampf – Distance – Rolling Prairie, Indiana (New Prairie)
1,600 meters: 4:25
Kallin Khan – Distance – Lisle, Illinois (St. Ignatius College Prep)
3,200 meters (indoor): 9:26.78
Christian Moore – Distance – Naperville, Illinois (Naperville North)
3 mile XC: 15:11
Cole Mullins – Distance – West Des Moines, Iowa (Valley)
Dylan Southall – Distance – Cedar Falls, Iowa (Cedar Falls)
1,600 meters: 4:23.35
5,000 meters XC: 15:52
Coach Anderson on Destache, Ecklin, Fogerty, Kampf, Khan, Moore, Mullins, Nash, and Southall: "All of these competitors are in the middle of great and potentially breakout senior seasons. One of the goals with recruiting was to add quality depth in our men's distance group and enhance an already young and talented group of returners. This group of outstanding student-athletes will positively impact our program, both academically and athletically, and there is no doubt that all will impact the Hawkeyes through their performances over the course of their careers."
Ashley Espinosa – Distance – Lake Villa, Illinois (Lakes)
3,200 meters: 11:51
Maaike Frerking – Distance – Waverly, Iowa (Clarke College)
Abby Sears – Distance – Bettendorf, Iowa (Bettendorf)
800 meters: 2:16.65
4,000 meters XC: 14:52
Andrea Shine – Distance – Crystal Lake, Illinois (Prairie Ridge)
3 mile XC: 17:59
Coach Anderson on Espinosa, Shine, Sears, and Frerking: "Andrea Shine, Ashley Espinosa, Abby Sears, and transfer Maaike Frerking add quality depth to our women's group with their ability to develop at the collegiate level. All have been a part of programs that have set them up well to develop at the collegiate level."