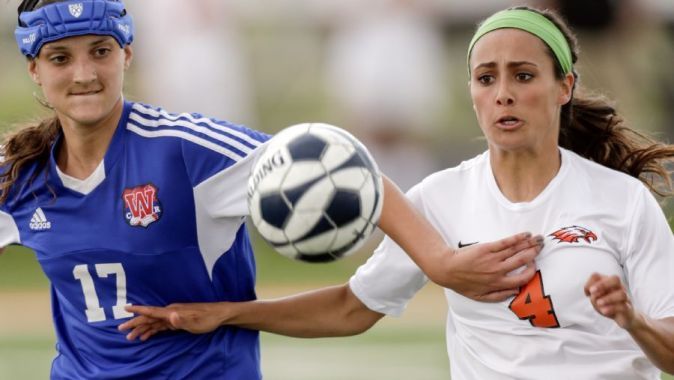 May 8, 2015
IOWA CITY, Iowa — Local product Hannah Kousheh has signed a National Letter of Intent to join the University of Iowa soccer program in 2015, UI head coach Dave DiIanni announced Friday.
The 5-foot-4 forward/midfielder is a native of Cedar Rapids, Iowa, where she was a two-time all-conference selection at Cedar Rapids Prairie High School.
"We are excited to add a player like Hannah at this late stage of the recruiting period," said DiIanni, who is entering his second year with the Hawkeyes. "She is someone we have been following since last summer at our ID camp, and we love that she has chosen to stay home, get a great education, and compete in the Big Ten Conference.
"Hannah is very creative and athletic and our hope is those elements will add to the depth and competition on our roster."
Kousheh was a first-team all-conference and honorable mention all-state selection as a junior, scoring 16 goals and tallying four assists in just nine games. She is Prairie's school record holder in single season goals, career goals, and career assists.
As a freshman, Kousheh netted 12 goals and had nine assists en route to earning second-team all-conference honors. She had two goals and three assists as a sophomore.
Kousheh, who played club soccer for PSC Iowa from 2006-15, was an honorable mention all-metro selection in track and field in the 100, 200, and 400 meters. She was also a state and Drake Relays qualifier.
Academically, Kousheh is a National Honor Society and Science National Honor Society member, and she has earned high honor roll distinction as a freshman, sophomore, and junior.
Kousheh is the ninth member of Iowa's 2015 recruiting class, joining Hannah Brobst (D/M, St. Louis), Kaleigh Haus (F, Des Moines, Iowa), Chelsey Henry (F, Stillwater, Minn.), Morgan Kemerling (M, Aurora, Ill.), Alina Magruder (F, Mustang, Okla.), Karsen Rauch (D, Noblesville, Ind.), Emma Rigby (GK, Naperville, Ill.), and Elizabeth Stam (M, Manteno, Ill.).