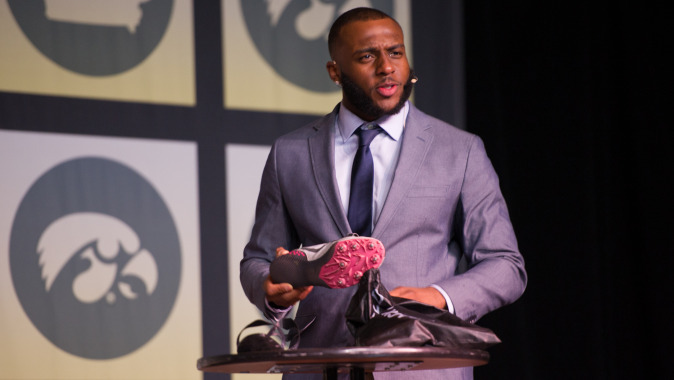 May 11, 2015
Editor's Note: The following first appeared in the University of Iowa's Hawk Talk Daily, an e-newsletter that offers a daily look at the Iowa Hawkeyes, delivered free each morning to thousands of fans of the Hawkeyes worldwide. To receive daily news from the Iowa Hawkeyes, sign up HERE.
IOWA CITY, Iowa — Anthony Gair and the University of Iowa football team concluded spring practices April 25 inside Kinnick Stadium. In addition to balancing football and school, the junior defensive back has been spending his extra time venturing in the world of entrepreneurism.
Gair and his mother, Raquel, came up with the idea of Track Slides, which are cleat covers for track shoes. Gair, who ran track in high school, said the product prevents damage caused to cleats when walking on concrete or asphalt. He invented a cap that avoids cleat contact with the pavement.
Gair, who has seen action in all 26 games on the football field the last two seasons, and his mentor, Jeff Nock, have been working on the product the last seven months and had an opportunity to pitch their idea in front of Daymond John, who co-stars on the ABC television show "Shark Tank." John was in Iowa City on April 23 to speak about entrepreneurialism to approximately 500 UI students in the Main Lounge of the Iowa Memorial Union. Following the lecture, John was part of a panel of venture capitalists who heard pitches from a handful of UI student entrepreneurs, including Gair.
"It was a little nerve-wrecking at first, but once I got on stage and got the crowd going, I relaxed," said Gair. "It was a great opportunity to get the crowd going and show everyone what I've been working on."
Gair's efforts earned him third place and $500 at the on-campus event. Although disappointed in the third-place finish, the native of Plano, Texas, enjoyed the experience.
"It was a great opportunity for Daymond John to be here and pitch my idea to him. I am looking forward to more pitches to others in the future," Gair said. "I had an opportunity to speak with John more in depth after the lecture, and he provided me with advice moving forward."
Teammate Jordan Lomax said he was not able to get tickets to the lecture because of high demand, but is proud of the steps Gair has taken in his business venture.
"I think it's a pretty good idea," said Lomax. "I heard he did a good job with his pitch."
Senior wide receiver Tevaun Smith said Gair has been keeping teammates updated on his progress.
"He has been telling me everything about it since he started," said Smith. "He's definitely making moves with it."
Gair, who turns 21 in May, is a communications major, but said he is also working on obtaining his entrepreneur certificate. The fourth-year Hawkeye is thankful for the level of academic classes he has taken at the UI.
"The entrepreneurship classes have helped me with this business as far as finances and reaching out to customers doing customer discovery," said Gair. "The classes at Iowa have prepared me for life after football."