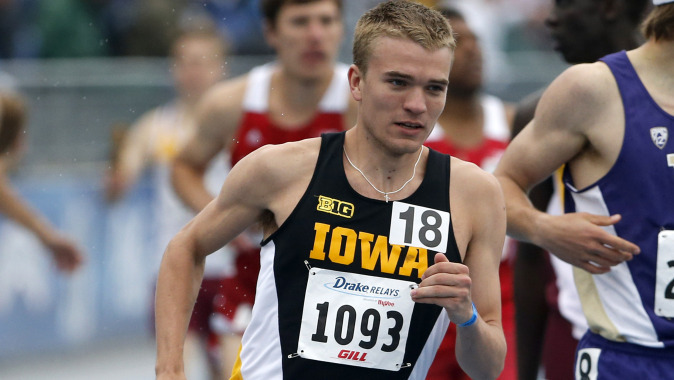 May 15, 2015
Full Results

EAST LANSING, Mich. — University of Iowa track and field seniors Annemie Smith and Kevin Lewis each notched top-five finishes in their respective events during the opening day of the Big Ten Championships in East Lansing, Michigan, on Friday. The Iowa men (four points) and women (six points) currently stand seventh in team scoring.
Smith took home a bronze medal in the women's hammer throw when she recorded a lifetime best 200-1.50 (60.99m), becoming the first Hawkeye in school history to throw over 200 feet. The George, South Africa, native first set the school record in the event last season (198-1, 60.38m).
"Her performance today was outstanding," UI throws coach Andrew Dubs said. "For her to come out today and have another PR, set the South African National Record, and the school record is just outstanding after what she's been through all year.
"It was great overall competition today and it was exciting to see Annemie put herself in the mix. She competed really well and deserves to be on the podium. I think one of the things she cares about most is finishing higher than she was seeded to earn the extra points for her team."
Freshman Leah Colbert (15th) also competed in the event with a personal best 173-0.75 (52.74m). That mark moves her to sixth all-time at Iowa.
Senior Kevin Lewis added four points to the team score following a fifth-place finish in the men's 10,000 meters. The Ottumwa, Iowa, native ran the fourth-fastest time in Hawkeye history at 29:36.42. His name stands third on Iowa's all-time list (28:59.62). Sophomore Ben Anderson (30:18.94) finished 11th, respectively.
After five events scored in the men's decathlon, redshirt freshman William Dougherty (3,629 points) and senior Jack Eckert (3,553 points) stand 12th and 13th, respectively. Dougherty posted two collegiate bests on the day in the 100 meters (11.25) and high jump (6-02.75, 1.90m).
The Big Ten Championships resume tomorrow at 8:30 a.m. (CT) and continues through Sunday. The three-day event is housed at the Ralph Young Field on the campus of Michigan State University.