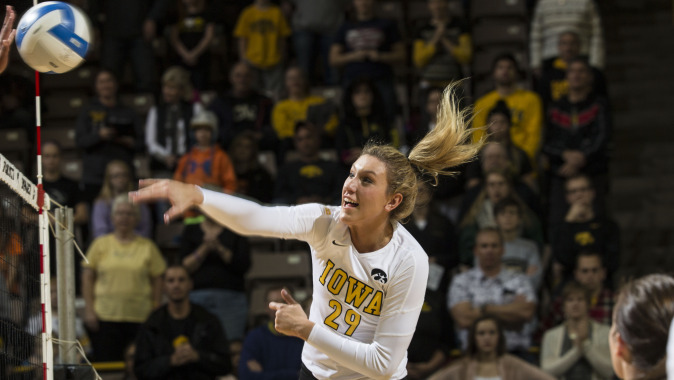 May 22, 2015
Editor's Note: The following first appeared in the University of Iowa's Hawk Talk Daily, an e-newsletter that offers a daily look at the Iowa Hawkeyes, delivered free each morning to thousands of fans of the Hawkeyes worldwide. To receive daily news from the Iowa Hawkeyes, sign up HERE.
By JIL PRICE
IOWA CITY, Iowa — Middle/right side hitter Jess Janota will represent the University of Iowa volleyball program on an international platform this summer.
The sophomore-to-be will unite with Big Ten volleyball players to compete in the conference's inaugural foreign tour.
"I'm excited to be a part of the first Big Ten European team," Janota said. "I've never been out of the country, and to be able to play overseas is such a great opportunity. It will give me more experience on the court as well as experience overseas.
"I'm so honored to have this opportunity to represent Iowa. I never expected to be able to play overseas during my college career. I'm ready to make the most of it."
The 14 student-athlete roster, which includes one volleyball player from each Big Ten institution, will play seven matches from June 13-25 in Croatia, Slovenia, and Italy.
"This will be a good opportunity for Jess to get extra training with a lot of other top athletes from the Big Ten Conference," said UI head coach Bond Shymansky. "It's a great opportunity to travel to Europe, see different parts of the world, and play the same game in a different European league.
"It creates an element of exposure for players in the Big Ten who might have the opportunity to play professionally in another country after their collegiate careers are completed."
While volleyball is the main reason Janota and the 13 other Big Ten student-athletes will head to Europe, there will be other opportunities to learn on the trip. The #B1GEuroVB squad will also spend time taking part in community service initiatives, studying foreign languages with local students, and visiting historic European cities like Ljubljana in Slovenia, Istra, Pula, Rovinj, and Porec in Croatia, and Padova and Venice in Italy.
Janota is most looking forward to visiting Italy.
"I know the most about it, but I'm excited to visit all of them and experience different cultures," she said. "It's such a great opportunity to see the world."
The trip also gives Janota experience on the court with the elite volleyball talent from across the conference. Northwestern head coach Keylor Chan will serve as the head coach, and he will be assisted by Paul Koncir of Indiana and Phuong Louong of Rutgers.
"(Playing with this group will) require (Jess) to give her highest focus and effort in practice," Shymansky said. "It will allow her to model after different things and see other ways to accomplish the same goal, which is winning.
"That's always of value and allows players to share experiences and get a foothold on what it means to be a member of the Big Ten. They should feel privileged and special for the opportunities they have."
The Big Ten Conference will roll out additional details on the first-ever European volleyball tour at a later date, including information on how to follow the team's progress. Stay tuned to bigten.org and hawkeyesports.com for more updates.