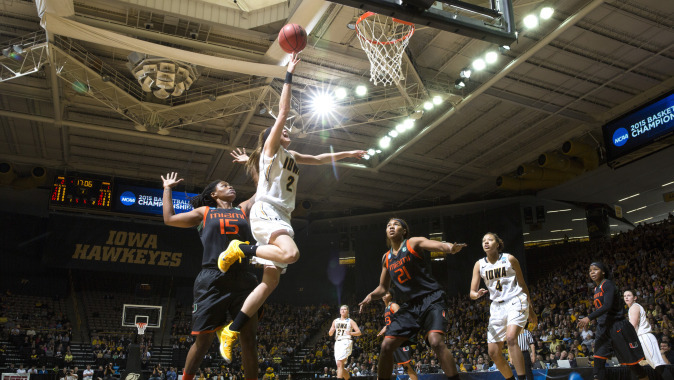 May 27, 2015
IOWA CITY, Iowa — The University of Iowa women's basketball team will travel to face Virginia as part of the ninth annual Big Ten/ACC Challenge. The game is set for Wednesday, Dec. 2, at John Paul Jones Arena in Charlottesville, Virginia. Start time and television coverage details will be released at a later date.
The game marks the third meeting between the Hawkeyes and the Cavaliers. Iowa leads the all-time series, 2-0, with a pair of victories at neutral sites. The first came in tournament action at Miami, Florida, on Dec. 29, 1987 (75-59), and the second occurred in the First Round of the NCAA Tournament at Storrs, Connecticut, on March 16, 2002.
Virginia is coached by Joanne Boyle, who enters her fifth season in 2015-16. She led the Cavaliers to 17-14 record overall, a 7-9 mark in ACC action, and a WNIT bid in 2014-15. The team finished ninth in ACC standings.
Iowa is 2-6 all-time in the Big Ten/ACC Challenge, boasting wins over No. 22 Syracuse in 2013-14 (97-91) and Virginia Tech in 2011-12 (58-47), and 15-9 all-time against ACC opponents. The Hawkeyes split against ACC opponents last season with a win over Miami in the Second Round of the NCAA Tournament in Iowa City (8-72) and a loss at No. 7 Louisville in the Big Ten/ACC Challenge (86-52).
The Big Ten sent seven teams to the NCAA Tournament in 2014-15, and has had at least one team appear in the Sweet 16 in 29 of the last 31 years. Iowa advanced to the Sweet 16 for the first time since 1996, and Maryland made it to the Final Four. Eight ACC teams were selected to the NCAA Tournament last season.
2015 BIG TEN/ACC CHALLENGE SCHEDULE
Wednesday, December 2, 2015
Illinois at Miami
Georgia Tech at Indiana
Iowa at Virginia
Syracuse at Maryland
Northwestern at North Carolina
Ohio State at Notre Dame
Wisconsin at Wake Forest
Thursday, December 3, 2015
Pittsburgh at Michigan
Louisville at Michigan State
Minnesota at Duke
North Carolina State at Nebraska
Virginia Tech at Penn State
Boston College at Purdue
Rutgers at Florida State