May 28, 2015
Photo Gallery

By DARREN MILLER
hawkeyesports.com
AUSTIN, Texas — There aren't many distractions in Vinnie Saucer's life, unless you count the loud Argyle black and gold socks he wears every race.
Joking aside, the fact Saucer is distraction-free is one reason he competed at the NCAA West Track & Field Preliminary on Thursday at Mike A. Myers Stadium. The University of Iowa sophomore turned in a 10.34-second clocking in the 100-meter dash, advancing to the quarterfinals that will be contested Friday at 6:45 p.m. (CT).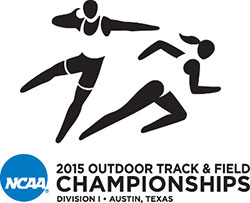 "Last year I wasn't even at this meet (held in Fayetteville, Arkansas); I didn't even think of coming to this meet," Saucer said.
Distractions, distractions, distractions.
As a freshman Saucer hung out with several non-athletes who didn't understand or care for the commitment needed to become one of the fastest men in the Big Ten Conference. This year Saucer lives in a house of tracksters and his performances have increased. He owns Hawkeye season outdoor bests of 10.31 in the 100-meter dash and 21.02 in the 200.
On Thursday he showed why he is one of the up-and-coming sprinters in this part of the country.
"Overall the race was decent, but my block start could have been better," Saucer said. "I came in with a bad knee. It was kind of bothering me, but I kept pushing through it and I was pretty satisfied with my race."
"I hang out with the right people. Being in a house full of all-track athletes is much better. They always give me encouragement to stay on the right path."

Vinnie Saucer
UI sophomore
The native of Valencia, California, was runner-up at the Big Ten Conference Championships 11 days ago with a time of 10.31 — 0.04 seconds behind Brandon Stryganek of Illinois. On Thursday he was one of four qualifiers out of the first preliminary heat, won by Beejay Lee of Southern California in 10.03.
"My goal was to make the next round," Saucer said. "You have to think a round at a time."
Saucer has at least three more races in Austin. The first is the 100 quarterfinal, the second is the 200 dash (Friday, 8:25 p.m.) and the third is the 4×100-meter relay quarterfinal Saturday at 6:15 p.m. Saucer runs the opening leg on the relay that owns a season-best time of 39.66 seconds — fourth-best all-time in school history. Last season — with a team of Tevin-Cee Mincy, O'Shea Wilson, James Harrington, and Keith Brown — the Hawkeyes earned first-team All-America honors by placing sixth at the NCAA Finals in 39.55.
Saucer will probably be on that quartet for two more seasons. And he no longer takes anything for granted. In fact, these days he is serious about everything.
"I hang out with the right people," Saucer said. "Being in a house full of all-track athletes is much better. They always give me encouragement to stay on the right path."
But what about those socks? Saucer purchased them at a bookstore on campus. He wore them at the Jim Duncan Invitational in April and had an impressive showing. The socks — and success for Saucer — have remained since.
"It is more of a traditional thing now, so I'll keep wearing them," Saucer said.
The Hawkeyes return to the track Friday when Aaron Mallett competes in the 110-meter high hurdles at 5:30 p.m.