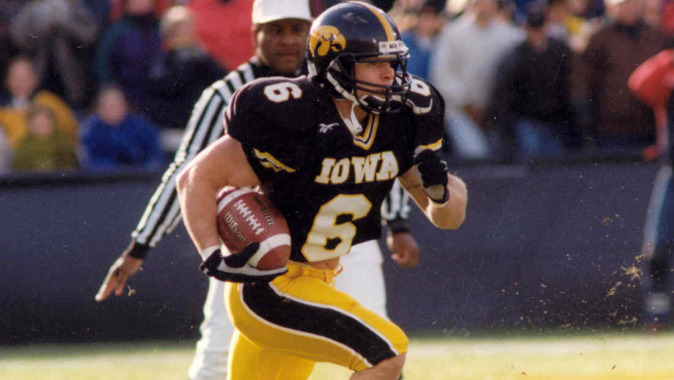 June 2, 2015
Big Ten Network: Free Hawkeye Video

IOWA CITY, Iowa – Former University of Iowa All-American's Tim Dwight and Andre Tippett are listed on the 2016 Football Bowl Subdivision ballot for the College Football Hall of Fame. The announcement was made Tuesday by the National Football Foundation (NFF).

The former Hawkeyes are two of 76 players from the Football Bowl Subdivision on the ballot. Dwight (1994-97) was a wide receiver and return specialist at Iowa. Tippett (1979-81) was a standout defensive end on Iowa's 1981 Big Ten championship team. Iowa is one of 17 programs to have more than one former player on the ballot.

Dwight, a native of Iowa City, earned first team All-America honors from the Football Writers Association of America as a junior. He earned consensus All-America honors in 1997, being named first team All-America by the Associated Press, Sporting News, Football Writers Association and Football Coaches Association. He placed seventh in the 1997 Heisman Trophy voting. Dwight was inducted into the UI Varsity Club Athletics Hall of Fame in 2011.

As a return specialist, Dwight recorded 76 punt returns for 1,102 yards and five touchdowns, along with 58 kickoff returns for 1,195 yards. On offense, he totaled 139 receptions for 2,271 yards and 21 touchdowns, while also gaining 322 yards and scoring six touchdowns on 37 rushing attempts.

Dwight holds school records for career punt return yards and touchdowns, season punt return touchdowns, and kickoff returns in a game (nine). He is tied for second in career receiving touchdowns, ranks third in career receiving yards and career all-purpose yards, fourth in career touchdowns (32) and 11th in career scoring (192 points).

In the Big Ten Conference, Dwight ranks second in season (three) and career (five) punt return touchdowns. He is third in career punt return average (14.5) and fourth in career punt return yards. His nine kickoff returns in a game share the Big Ten record, and the longest punt return of his career, 92 yards, is tied for eighth best in conference history.

Dwight was drafted in the fourth round of the 1998 NFL Draft by the Atlanta Falcons and played in the NFL from 1998-2007 (Atlanta, San Diego, New England, New York Jets, and Oakland). His NFL career totals include 116 games, 1,773 yards and three touchdowns on punt returns, 4,753 yards and two touchdowns on KO returns, 194 receptions for 2,964 yards and 19 touchdowns, and 53 rushing attempts for 380 yards and two scores. He had a 94-yard kickoff return for a touchdown as a rookie in Super Bowl XXXIII for the Falcons.

Tippett, a native of Newark, New Jersey, earned consensus All-America honors as a senior in 1981. He led the Hawkeyes to a share of the 1981 Big Ten title and a spot in the 1982 Rose Bowl, Iowa's first bowl appearance since the 1959 Rose Bowl. He earned first-team All-Big Ten honors as a junior and senior.

Tippett holds the Iowa record for tackles for loss yardage (153 yards on 20 TFL). He led the Big Ten in tackles for loss as a junior. He served as a team captain as a senior and was selected in the second round of the 1982 NFL Draft by New England.

Tippett enjoyed an outstanding NFL playing career that covered 12 seasons. He was a five-time selection to the Pro Bowl (1984-88) and was named Linebacker of the Year by the NFL Players Association for three straight seasons (1985-87). He ranked seventh on the NFL's all-time sack list at the time of his retirement, including third among linebackers. He was named Defensive Player of the Year in 1985 for the AFC Champion Patriots.

Tippett was named as a defensive end on Iowa's all-time team and was inducted into Iowa's National Varsity Club Athletics Hall of Fame in 2007. He was inducted into the New England Patriots Hall of Fame in 1999 and the National Football Hall of Fame in 2008. He is a member of the NFL's 1980 All-Decade Team.

The announcement of the 2016 Hall of Fame Class will be made Friday, Jan. 8, 2016, at the JW Marriott Scottsdale Camelback Inn in Scottsdale, Arizona, in conjunction with the College Football Playoff National Championship, which will be played Jan. 11 at University of Phoenix Stadium in Glendale, Arizona.

The NFF is continuing with its electronic voting system for balloting that it unveiled last year. The ballot was emailed this week to the more than 12,000 NFF members and current Hall of Famers whose votes will be tabulated and submitted to the NFF's Honors Courts, which deliberate and select the class. The 2016 class will be inducted at the NFF Annual Awards Dinner, Dec. 6, 2016, in New York City.

To be eligible for the ballot, players must have been named a First Team All-American by a major/national selector as recognized and utilized by the NCAA for their consensus All-America teams; played their last year of intercollegiate football at least 10 years prior; played within the last 50 years and cannot be currently playing professional football.

Linebacker Larry Station, inducted in 2009, is the most recent Hawkeye inducted into the College Football Hall of Fame. Former UI coach Hayden Fry was induced in 2003. During his tenure at Iowa, Fry coached three Hall of Fame members, including Tippett, Station, and quarterback Chuck Long.