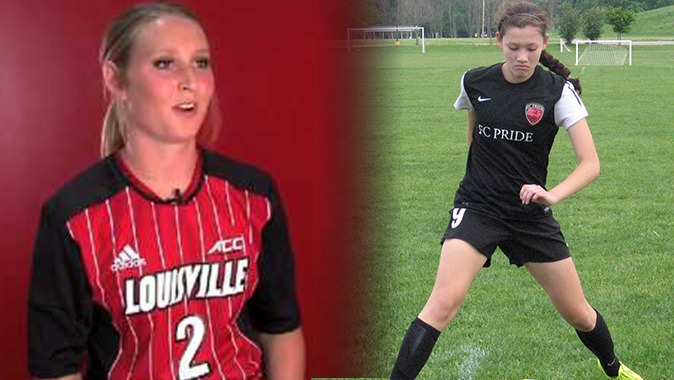 June 4, 2015
IOWA CITY, Iowa — Louisville transfer Rachele Armand and incoming freshman Kyrie Seying will join the University of Iowa soccer team for the 2015 season, UI head coach Dave DiIanni announced Thursday.
Armand, a junior from Aurora, Illinois, played her first two collegiate seasons with the Cardinals. The defender battled injuries to play in 13 career games with nine starts, helping Louisville to the NCAA Tournament.
During her high school career at Waubonsie Valley, Armand was an NSCAA high school All-American in 2012, while also earning Illinois all-state, team most valuable player, and first-team all-area honors. The two-time team captain was a two-time all-conference selection and was named academic all-conference from 2010-12. She helped Waubonsie Valley to a state title in 2010, a season where she was an honorable mention all-sectional honoree.
Armand played club soccer for Team Chicago Botafago, where she was a member of the 2012 Illinois state championship, Region 2 championship, and National League championship teams. The squad finished third at the 2012 National Championships. She was also a member of the 2011 and 2012 MRL Premier Championship teams.
"Rachele is a smart soccer player and a high-level competitor who has played some very meaningful games in the ACC during the past two seasons," said DiIanni. "She is a solid backline defender who can play as a center back or out wide in any system because of her instincts and soccer intelligence.
"She will bring a lot to our young, inexperienced team next fall because she understands how to prepare and compete to be successful at a high level. That will, in turn, help our team be successful."
Seying is a defender from Indianapolis, where she attended Lutheran High School. She lettered in soccer as a freshman before focusing solely on club circuit, competing for Zionsville from 2011-14 and FC in 2014-15.
Academically, Seying was an honor roll student from 2011-15, a National Honors Society member, and was a member of student council.
"Kyrie is a good athlete and student who we are excited about adding to our program this late in the recruiting cycle," said DiIanni. "She is someone who will add to our depth at a number of positions and knows how to compete to win and be successful on and off the field."
Armand and Seying are the 10th and 11th members of Iowa's 2015 recruiting class, joining Hannah Brobst (D/M, St. Louis), Kaleigh Haus (F, Des Moines, Iowa), Chelsey Henry (F, Stillwater, Minn.), Morgan Kemerling (M, Aurora, Ill.), Hannah Kousheh (F/M, Cedar Rapids, Iowa), Alina Magruder (F, Mustang, Okla.), Karsen Rauch (D, Noblesville, Ind.), Emma Rigby (GK, Naperville, Ill.), and Elizabeth Stam (M, Manteno, Ill.).