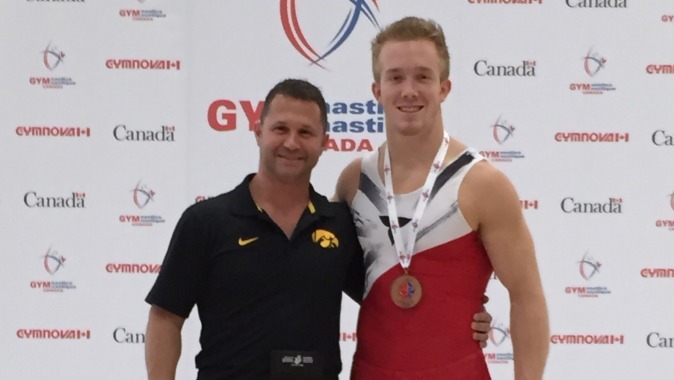 June 9, 2015
IOWA CITY, Iowa — University of Iowa sophomore and defending high bar Canadian national champion Cory Paterson traveled to Quebec, Canada, to compete in the 2015 Canadian Gymnastics Championships at the end of May.
Paterson's fifth place (80.300) all-around finish was complimented with two spots in event finals on parallel bars (13.000) and high bar (14.450). He was unable to reclaim his 2014 high bar title, but finished runner-up on the event with a score of 14.550.
For his efforts at the championships, Paterson earned a coveted position on the Canadian National Team.
"He was placed on the Canadian Senior National Team for the first time, no doubt because he has shown a potential to represent them well on a world stage," head coach JD Reive said.
"This experience and growth is invaluable to his value as a Hawkeye. Each year this meet is a stepping stone for a more mature Cory Paterson, and we see that throughout the competitive season."
The Oakville, Ontario, native has been building toward a bigger role with the Hawkeyes following his 2014 trip to the Canadian National Championships, where Reive saw growth in the young gymnast. He continued to impress and improve throughout NCAA competition in his sophomore campaign.
"Cory did an excellent job, particularly when factoring in the continuous training necessary to be ready during the demanding academic period that follows our NCAA season," Reive said. "He managed to improve his difficulty levels and successfully compete all-around while owning a very accomplished semester."
Reive believes in the importance of competing in elite summer competitions, knowing that the experience gained at them will benefit his student-athletes during the regular NCAA season.
Paterson is the first of many Hawkeyes to compete this summer, as Iowa is sending several gymnasts to U.S. Qualifiers to compete for the right to perform at the P&G Championships in August.