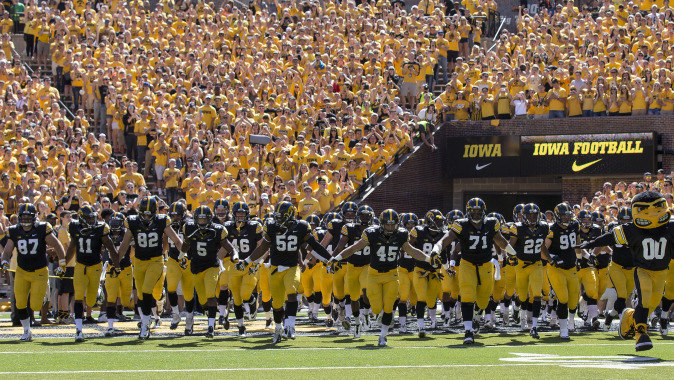 June 12, 2015
Big Ten Network: Free Hawkeye Video

IOWA CITY, Iowa — The University of Iowa's opening football game of the 2015 season, vs. Illinois State in Kinnick Stadium, will start at 11 a.m. CT and will be televised to a national audience by the Big Ten Network (BTN). The announcement was made Friday by the Big Ten Conference, as most start times for the opening three weeks of the season have now been announced.

The opening contest of the season will mark the first ever football contest between the Hawkeyes and Illinois State. Last season the Redbirds won 13 games and advanced to the championship game of the NCAA Division I FCS Playoffs.

Start times for six Hawkeye games are now set, including two night games in Kinnick Stadium for the first time ever. Iowa will host Pittsburgh on Sept. 19 and Minnesota on Nov. 14, with both games starting at 7 p.m. CT. BTN will televise both contests.

Iowa will travel to Iowa State for the annual Iowa Corn Cy-Hawk Series game on Sept. 12, with that game slated to start at 3:30 p.m. CT. FOX will televise the contest from Ames.

Iowa's Homecoming game against Illinois on Oct. 10 will start at 11 a.m. (CT). The game, which will be the first between the two teams in Iowa City since 2007, will be televised on BTN, ABC, or an ESPN network (ESPN, ESPN2, or ESPNU). Iowa holds an all-time Homecoming record of 56-42-5, including a 5-5-2 mark versus Illinois. Iowa defeated Indiana, 45-29, in its 2014 Homecoming game.

Iowa will be the opponent for the Northwestern Homecoming game on Oct. 17. That contest in Evanston, Illinois, will also have an 11 a.m. (CT) start time and will be televised on BTN, ABC, or an ESPN network.

Start times and television information for Iowa's remaining games have not yet been released.

Season ticket information for 2015 Hawkeye football home games can be obtained by calling the UI Athletics ticket office at 1-800-IAHAWKS.