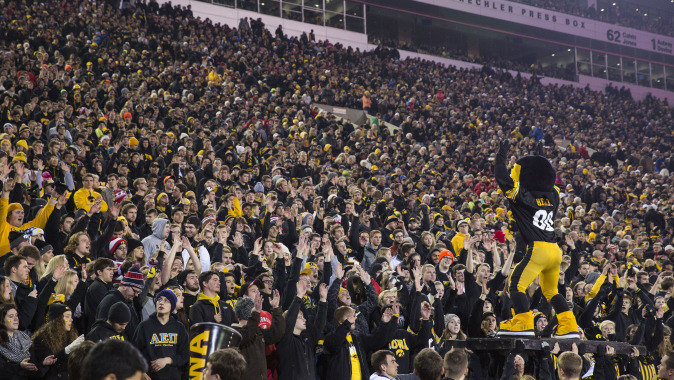 June 18, 2015
IOWA CITY, Iowa — Fans of the 2015 University of Iowa football team will have the opportunity to purchase three-game ticket packages beginning Monday, June 22.
Fans will create their own three-game package by selecting one game from three different sets of games:
Illinois State (2015 season opener, Varsity Club Hall of Fame Celebration, Sept. 5 at 11 a.m.) or North Texas (Sept. 26, Time TBA)
Pittsburgh (ANF Day at the Game presented by the Iowa Farm Bureau, Sept. 19 at 7 p.m.) or Minnesota (Floyd of Rosedale, Nov. 14 at 7 p.m.)
Illinois (Homecoming, Oct. 10, 11 a.m.), Maryland (Oct. 31, Time TBA) or Purdue (Senior Day, Nov. 21, Time TBA)
The cost of a three-game package is $157. The primary location for most of the seats available for three-game ticket purchases is the upper sections of the south grandstand.
Fans can place their order online at hawkeyesports.com, over the phone at (800) IA-HAWKS, or in person at the UI Athletics Ticket Office in Carver-Hawkeye Arena. The UI Athletics Ticket Office is open 9 a.m. to 4 p.m., Monday through Friday.
The UI Athletics Ticket Office continues to accept orders for season tickets from the general public ($395 each), UI faculty and staff ($325 each), recent graduates of the UI ($240 each), and UI students ($175). Students who will be new to the UI in the fall are reminded that they can purchase their season ticket for $125 – a savings of $50 – during their on-campus orientation session.
Fans interested in taking advantage of discount-priced tickets for groups of 25 or more should contact Rachael Bedell, the UI's group sales coordinator, at (319) 384-4299.
The UI Athletics Department will announce its plans for sales of tickets to individual home games of the 2015 Iowa football team later this month.
Iowa opens its 2015 season against Illinois State inside Kinnick Stadium on Saturday, Sept. 5. The Hawkeyes non-conference home schedule also includes games against Pittsburgh (Sept. 19) and North Texas (Sept. 26). Iowa's home schedule against Big Ten Conference rivals includes Illinois (Oct. 10), Maryland (Oct. 31), Minnesota (Nov. 14), and Purdue (Nov. 21).