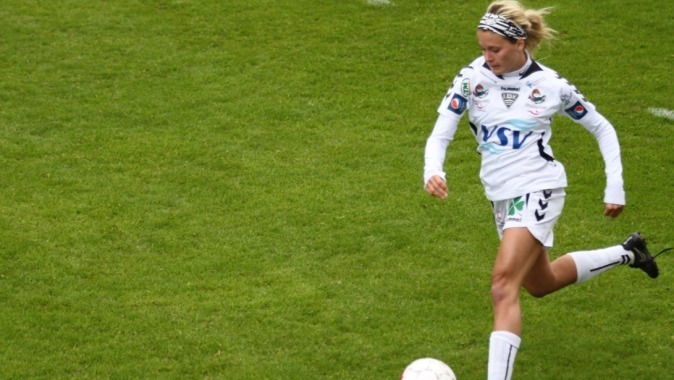 June 30, 2015

Photo Gallery
Editor's Note: The following first appeared in the University of Iowa's Hawk Talk Daily, an e-newsletter that offers a daily look at the Iowa Hawkeyes, delivered free each morning to thousands of fans of the Hawkeyes worldwide. To receive daily news from the Iowa Hawkeyes, sign up HERE.
By JAMES ALLAN
hawkeyesports.com
IOWA CITY, Iowa — Cloe Lacasse has a complimentary kitchen appliance to show that she's off to a solid start in her professional soccer career in Iceland.
Lacasse, a University of Iowa graduate, is playing for IB Vestmannaeyja in the Premier League in Iceland, where she has scored six goals in eight matches and has been named Player of the Match three times.
That's where the kitchen appliance — a blender — comes in.
"When you're named the Player of the Match you get a prize," said Lacasse. "I won a blender on one of them. The prizes vary depending on where you're playing — gift cards, money, candy.
"Every home game there is a different sponsor that covers the prize. The blender came from one of the kitchen sponsors. It has been a lot handier than you would think."
| | |
| --- | --- |
| | "This experience has been surreal. I never anticipated going to Iceland, so being here is crazy. I am enjoying my time, it has been a great experience." |
Lacasse is playing a new role for IB Vestmannaeyja as central/outside midfielder, but she's still an attacker, which shouldn't be a surprise. A forward for the Hawkeyes from 2011-14, Lacasse finished her Iowa career tied for the school record with 112 points while ranking second all-time with 43 goals.
"It's a little change," said Lacasse of move to the midfield, "but I am being used mostly for attacking purposes, so it's very familiar. I just defend a little more."
Lacasse says soccer in Iceland is more technical than in the United States, which is helping her expand her game. She believes her career in Iowa City helped prepare her to play professionally.
"Playing at the University of Iowa set me up to have this opportunity," she said. "Having a chance to compete in the Big Ten, which is one of the most physical conferences in the United States, made it so coming here wasn't a big transition.
"I was ready from a physical standpoint and athletically. It helped playing against some of the best players in the nation for four years in the Big Ten."
Lacasse utilized an agent and the Iowa coaching staff to line up the opportunity in Iceland. She's soaking in the experience and taking the time to enjoy her surroundings.
"Our team is on an island off of an island and there are two volcanos on our island," explained Lacasse. "I have checked them both out — one is active and one isn't. That was a neat experience; you could feel the heat coming out of the active volcano."
After finishing in the lower half of the Premier League last season, Lacasse has helped IB Vestmannaeyja to a 4-3-1 record early in the 2015 season. The team has 11 matches remaining and is in the elite eight playing for the Icelandic Cup.
After the season, Lacasse plans on returning to Canada to sort out what's next. Soccer will likely be part of the equation.
"This experience has been surreal," she said. "I never anticipated going to Iceland, so being here is crazy. I am enjoying my time, it has been a great experience. I want to keep playing while I still can."
Playing for Lacasse means more opportunities to fill her kitchen with appliances.