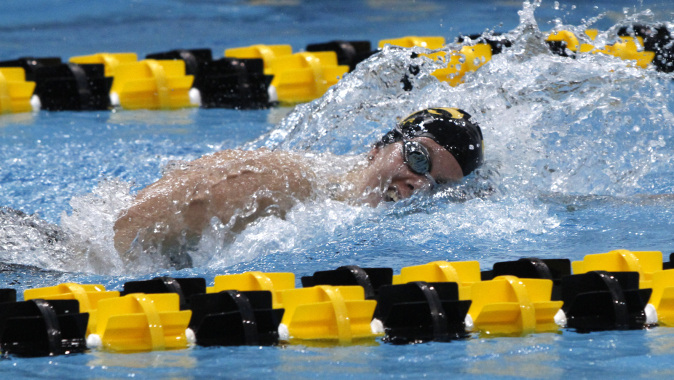 July 1, 2015
24 Hawkeyes to Watch

IOWA CITY, Iowa — Eight members of the University of Iowa swimming and diving team have earned Scholar All-America honors, it was announced Wednesday by the College Swimming Coaches Association of America (CSCAA).

Senior Joelle Christy and juniors Addison Boschult and Roman Trussov were named Scholar All-Americans, while senior Abby Grilli and juniors Allie Orvis, Olivia Kabacinski, Andrew Parker, and Mike Nelson were honorable-mention Scholar All-Americans.

"This is a tremendous recognition for these outstanding student-athletes," said UI head coach Marc Long. "I'm proud of their dedication and performance in the classroom."

To be selected to the CSCAA Scholar All-America Team, swimmers and divers must have achieved a grade point average of 3.50 or higher and have participated in their respective NCAA Swimming and Diving Championships.

Honorable mention Scholar All-Americans have similarly achieved a GPA of 3.50 and achieved a "B" time standard or competed at their respective qualifying meets.

In the diving well, Boschult garnered honorable-mention All-America honors, placing 10th on the platform diving event at the 2015 NCAA Championships. Christy qualified for the NCAAs on the 1-meter, while Trussov swam individually in the breaststroke events, while also competing as part of the medley relays.

The eight individual accolades come after both the men's and women's teams were honored collectively for their work in the classroom. Both programs were named CSCAA Scholar All-America Teams for the spring 2015 semester.