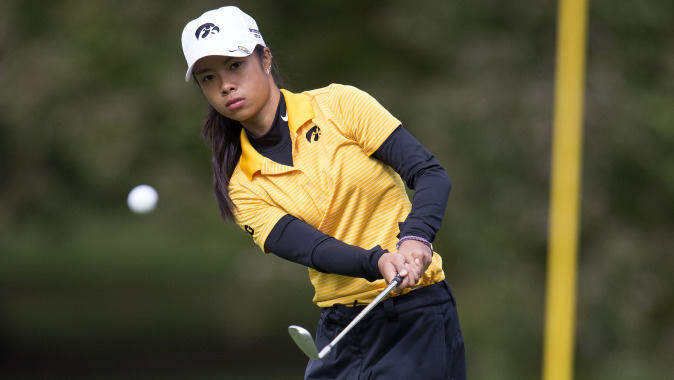 July 8, 2015
UNION, Ontario — University of Iowa golfer Jessica Ip is among the top-5 following the first round of the Golf Association of Ontario's (GAO) 2015 Investors Group Women's Amateur Championship. Ip shot a first round 72 (E), making par on 11 of the first 18 holes. The Richmond Hill, Ontario, native also fired in three birdies.
The sophomore is currently in fifth, three strokes off the leader Brittany Marchand of the Brampton Golf Club, and two strokes behind five-time champion Mary Ann Hayward (The Club at North Halton) for second place.
Round two of the tournament takes place on Wednesday with a cut to follow, the top-54 scorers will move on. The final two rounds take place Thursday and Friday.
Ip impressed in her first season for the Hawkeyes, competing in all six spring competitions and posting a 77.7 scoring average. She paced the team at the Lady Buckeye Invite with a three round 226 (+10) with rounds of 73, 73 and 80, finishing tied for 12th.
About the Investors Group Women's Amateur
The Investors Group Ontario Women's Amateur Championship, taking place at the St. Thomas Golf and Country Club, was first played in 1904. Past champions include 1968 LPGA championship winner Sandra Post (1964), LPGA Tour players Rebecca Lee-Bentham (2007), Brooke Henderson (2014) and World Golf Hall of Fame member Marlene Stewart Streit.