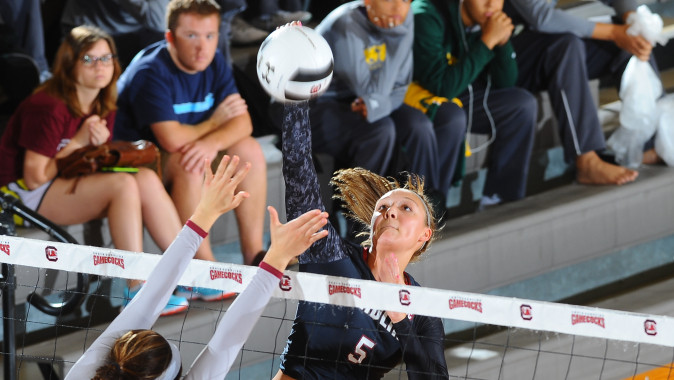 July 9, 2015
IOWA CITY, Iowa — University of Iowa head volleyball coach Bond Shymansky announced the addition of outside hitter Taylr McNeil on Thursday. McNeil joins the Hawkeyes as a sophomore transfer following one season at South Carolina.
"Taylr is a proven champion and competitor on the court," said Shymansky. "She has proven that as the state player of the year in Minnesota her senior year, as a state champion, and as one of the leading point getters for South Carolina in her first year. We are counting on her experience playing in the SEC to step up to the level of the Big Ten, and for her to really be a go-to hitter for our offensive system."
The Eagan, Minnesota, native played in 28 matches and notched 25 starts for South Carolina in 2014. She led the Gamecocks with a kills per set average of 3.06 in her freshman campaign, an average that ranked ninth in the SEC and second among league freshmen. McNeil also averaged 1.76 digs per set, 0.50 blocks per set, and led the team in kills in 16 matches.
McNeil, the 2013 Minnesota Gatorade Player of the Year, was a five-year varsity letter winner in high school. She lettered as an eighth grader and freshman at Lakeville North High School and spent her final three years at Eagan High School. McNeil led Lakeville North to the Class 3A state title in 2010, before earning her second Class 3A state title with Eagan in 2013.
"Taylr is another great piece to the puzzle," Shymansky added. "I know that Taylr is an outstanding person and a fantastic student that has really strong character. She will be an easy fit for the group that we already have, because we have so many student-athletes that have those same attributes."
McNeil played for Minnesota One Volleyball Club in Bloomington, Minnesota. She guided her team to a fifth-place finish at the 2013 AAU Nationals 18s Open. McNeil also earned AAU All-America honors in 2010 after leading her AAU Nationals 15s Open team to a fifth-place finish.
"We are really looking forward to having Taylr on the team," said Shymansky. "We are so glad that she is a Hawkeye."
McNeil, along with transfers, Loxley Keala, Ashley Mariani, Annika Olsen, and freshmen Reghan Coyle, Reagan Davey, Molly Kelly, and Libby Koukol, will begin their Hawkeye playing careers in 2015.