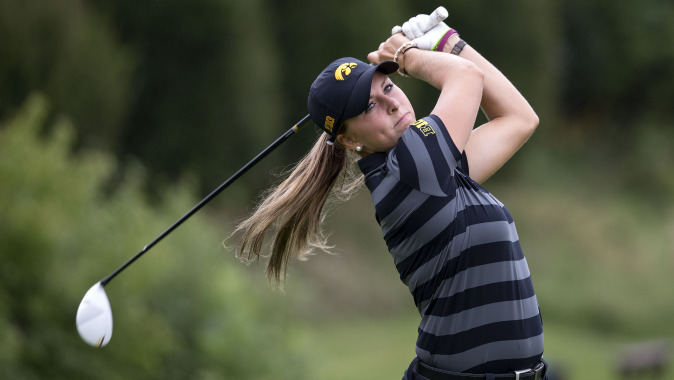 July 17, 2015
IOWA CITY, Iowa — Four University of Iowa golfers — Amy Ihm, Jessie Sindlinger, Jessica Ip, and Kristin Glesne — saw action in championship events this week.
Sindlinger and Ihm each recorded top-10 finishes in the Iowa Women's Amateur at Coldwater Golf Links in Ames, Iowa. Sindlinger, a junior, finished second with a three-round total of 213 (E; 69, 74, 70). The Charles City, Iowa, native finished six strokes behind three-time Iowa Women's Amateur champion Jenny Graeser.
Sindlinger carded a two-under-par 69 in her first round on Monday, recording birdies on three, seven, 13, 14, and 18. After carding a 74 (+3) in Tuesday's second round, Sindlinger fought back, firing a one-under-par 70 on Wednesday to secure her second-place finish.
Ihm recorded a sixth-place finish at the event, firing a three-round 223 (+10; 72, 79, 72). The senior recorded a one-over-par 72 in the first and third rounds en route to her top 10 finish.
Ip, a sophomore, tied for ninth place at the Investors Group Ontario Junior Girls' Championship on Friday. The Richmond Hill, Ontario, native carded a four-round total of 314 (+26; 78, 77, 77, 82) at the Loch March Golf and Country Club in Kanata, Ontario.
Glesne, an incoming freshman, tied for 14th at the American Junior Golf Association (AJGA) Valero Junior Texas Open. The San Antonio, Texas, native carded a three-round total of 242 (+26; 75, 85, 82) at the TPC San Antonio Golf Club. She shot her best round on Tuesday, recording a three-over-par 75. The three-time state medalist will join the Hawkeyes this fall.