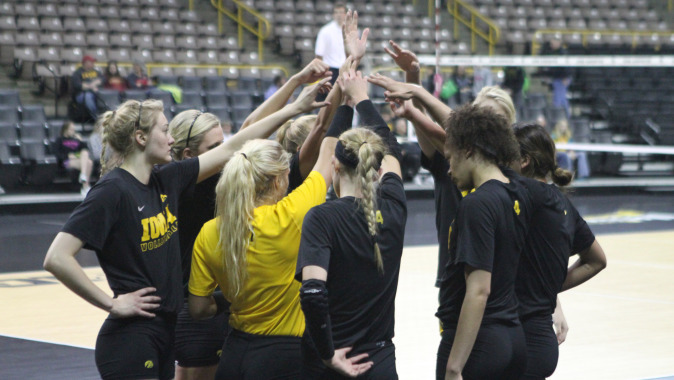 July 23, 2015
Editor's Note: The following first appeared in the University of Iowa's Hawk Talk Daily, an e-newsletter that offers a daily look at the Iowa Hawkeyes, delivered free each morning to thousands of fans of the Hawkeyes worldwide. To receive daily news from the Iowa Hawkeyes, sign up HERE.
By BRANDEE BRITT
IOWA CITY, Iowa — When University of Iowa head coach Bond Shymansky was hired 18 months ago, he knew bringing the volleyball program from the bottom of the Big Ten Conference to the top would require major changes.
The journey began with adjusting the culture in year one, and progress was made. The Hawkeyes won four-consecutive conference matches, the longest win streak since 1994, defeated their first ranked opponent since 2012 with a four-set victory over No. 12 Purdue, and compiled six Big Ten Conference wins for the first time since 2008.
With a revamped roster in 2015, Iowa has its sights set on accomplishing even more.
"In order for us to become a Big Ten champion, things are going to have to change from where they were," said Shymansky. "Having new faces means things are changing. We are making the right changes in all components: what we are training, how we are training, and who we are training."
The 2015 roster features eight newcomers, including four with collegiate experience.
Junior setter Loxley Keala joins the program following two years at Missouri, while junior middle blocker Ashley Mariani transfers after spending two seasons at Tennessee. Sophomore Taylr McNeil — an outside hitter — played her freshman season at South Carolina, and sophomore defensive specialist Annika Olsen adds depth to the back row following a year at Georgia Tech.
The Hawkeyes also welcome four incoming freshmen, including right side hitter Reghan Coyle, outside hitter Reagan Davey, and defensive specialists Libby Koukol and Molly Kelly.
With more than half of its roster comprised of newcomers, the team is using the summer to bond as a unit.
"The team has been here for the better half of the summer," said Shymansky. "It's a great time for them to build a social membership and connection with each other. It's a time where they not only get stronger physically, but they also build stronger connections emotionally."
Iowa's seven returners — seniors Erin Radke, Mikaela Gunderson and Alli O'Deen, juniors Alyssa Klostermann and Lauren Brobst, and sophomores Taylin Alm and Jess Janota — are committed to easing the transition for their new teammates.
"It has been great seeing our team grow every week," said Klostermann. "It has been nothing but great so far. We are taking the newcomers under our wings — all of the upperclassmen are."
The Hawkeyes look to build upon the momentum they established last season. Iowa finished the 2014 season with a 14-17 record and a 6-14 mark in Big Ten conference action.
"Last year we had a fantastic growing season," said Klostermann. "This year it's only going to improve. We are more than excited to take down some teams."
As the 2015 season draws closer, the Hawkeyes are ready to prove they can compete in the best volleyball conference in the country.
"We are capable of winning any match on any night in Big Ten play," Shymansky added. "We do have aspirations of being champions, and we want people to come out and help us win."
"Iowa has been an underdog for so long, and it's finally starting to turn around," said Klostermann. "We want people to start fearing Iowa volleyball because we are coming after them."
The Hawkeyes debut their new roster at the Northern Illinois University Tournament in DeKalb, Illinois, from Aug. 29-30.