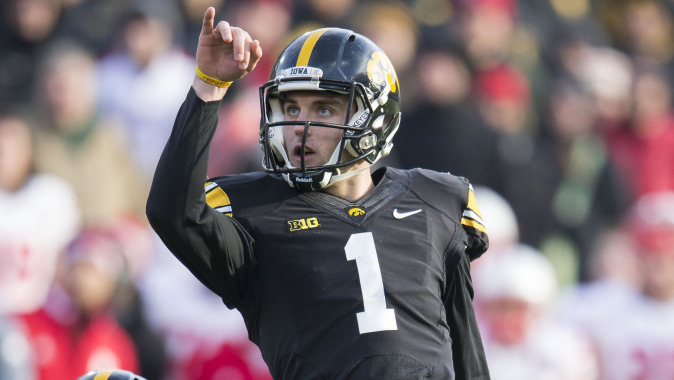 Aug. 18, 2015
By MEGAN ROWLEY
hawkeyesports.com
IOWA CITY, Iowa — Senior placekicker Marshall Koehn saw action in all 13 games last season.
The Solon, Iowa, native handled a majority of placement duties throughout the 2014-15 season. He connected on 12 of 16 field goals and was perfect on 38 PAT attempts to rank second on the team with 74 points.
Koehn led the Big Ten and ranked eighth nationally in touchback percentage (63.2 percent), tied for first in Big Ten in PAT percentage (100 percent), ranked second in touchbacks (43), and seventh in field goal percentage (75 percent). He also ranked among national leaders by averaging 59.5 yards on kickoffs, with 43 touchbacks.
Most notably, Koehn handled all kicking duties in Iowa wins over Northern Iowa, Northwestern, Pittsburgh, Purdue, Indiana, and Illinois.
Koehn's 52-yard field goal at Pittsburgh ties as eighth longest in school history.
In his inaugural season with the Hawkeyes, Koehn saw action in the 59-3 win over Western Michigan when he converted the only PAT attempt.
The former walk-on recently caught up with Hawkeyesports.com at Media Day to discuss his final season.
As a senior, how do you prepare underclassmen to play on such a big stage each week?
I have been here for five years, so when gameday comes I prepare them how I prepare myself. I take them through my routine, I tell them things that may happen and try to tell them different things to expect. I tell them that they have to be visualizing, thinking about what their job is and focusing on doing their best. You have to visualize those things to be successful on Saturdays.
What's it like running out of the tunnel?
It's a feeling you never forget. It gives you goose bumps. It's a pretty special feeling.
What are your personal goals for the season?
I want to be as consistent as possible. As a unit, I want to be a weapon for this team that they can rely on. I just want the special teams to be something that the team can count on this year.
What is your favorite part of being a Hawkeye?
I'm from Solon, Iowa, so I have always wanted to be a Hawkeye. It has always been something I want to do, so it has just been special to be able to do it.
Are there any kickers you enjoyed watching growing up?
For sure former Hawkeye, Nate Kaeding. I work with him now and then, so he is definitely one of my role models.
What has been your main focus during the offseason?
We have a new holder so I have been focusing on consistency with snapping holds.
Do you have any pregame rituals?
Usually before every game, Mike Meyer (he was a kicker previously), will send me some random song that I have to listen to before every game. So I usually just do that.
If you could play a different position on the field, what would it be?
I think receiver. I played in high school and played a little scout team here at one point. So I think that would be my choice.
Outside of football, what are some hobbies you enjoy?
I like to fish, hunt, and watch movies.
What is your favorite app on your phone?
I'm into Snapchat right now.