Aug. 20, 2015
Editor's Note: The following first appeared in the University of Iowa's Hawk Talk Daily, an e-newsletter that offers a daily look at the Iowa Hawkeyes, delivered free each morning to thousands of fans of the Hawkeyes worldwide. To receive daily news from the Iowa Hawkeyes, sign up HERE.
By SAM STYCH
IOWA CITY, Iowa — Greg Mabin was a freshman wide receiver in 2012, but after spending his rookie season in a redshirt he made the decision to flip to the defensive side of the ball. It was a move that turned out for the better for Mabin, and great for Iowa.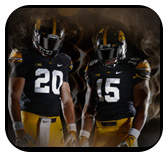 A native of Fort Lauderdale, Florida, Mabin played in 13 games as a third-year sophomore in 2014 with 12 starts. The 6-foot-2, 200-pound defensive back recorded 53 tackles, including 35 solo tackles and 18 assists, along with two tackles for loss.
Mabin also recorded one interception — snagged in his first career start — recovered two fumbles and had five pass break-ups.
Mabin, now a junior at the top of Iowa's depth chart, answered 10 questions from hawkeyesports.com at the Hawkeyes' annual media day.
Is there any significance to the No. 13?
"Not at all. My original number was 88 and I wanted to change that, so I went into coach's office and he gave me a bunch of options and I figured number 13 would look the best on me."
What is one thing most people don't know about you?
"I'm a pretty goofy guy once I get to know you, but until I get to know you I am fairly shy and quiet."
If you had a time-travel machine, where and when is the first place you would go?
"Back to the time when dinosaurs existed. I'd like to try to see if I could ride a T-Rex or something."
Do you have any superstitions or pregame rituals?
"I always call my mom before every game as a way to help me calm my nerves."
What was it like when you recorded your first career interception last year?
"It was unreal. I didn't even realize it was happening until after I was tackled and got back up. It was everything I've been praying for and wishing for ever since I first started playing football."
What is your favorite app on your phone?
"I would have to go with the iMovie app. Some of the other guys on the team and I like to make a lot of funny videos using that app."
What is it like to run out in front of the Kinnick Stadium fans on game day?
"It's unreal. There is no other feeling like it. The natural high you get from having 70,000 fans cheering for you while running alongside your brothers who you have worked hard, sweated, and bled with is so great."
Outside of football, what are some hobbies you enjoy?
"A lot of times I'll get together with some of the guys on the team and we'll just hang out at the house, go out to eat, or even go bowling. I spend a lot of time with the guys and it's always a good time."
You will be playing under the lights two times this year, how exciting is that for you?
"It's really exciting. The last time we played under the lights was at home against Penn State. That was a really tough loss. The atmosphere was great, but we definitely need to redeem ourselves because we don't want to go out like that again."
What is your favorite part about being a Hawkeye?
"Just being a part of the culture and adding on to the legacy that past Hawkeyes have left with this program."