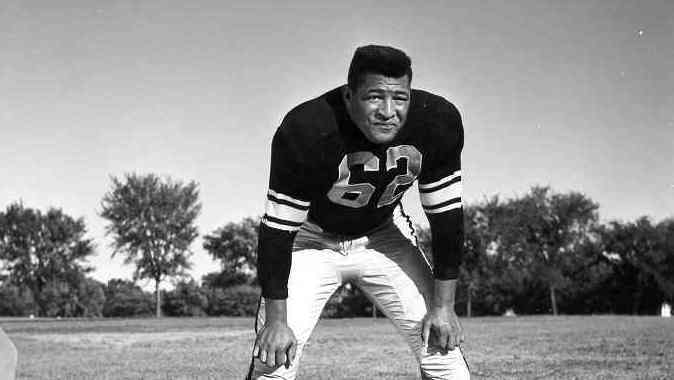 Aug. 20, 2015
IOWA CITY, Iowa — Former University of Iowa offensive lineman Calvin Jones has been named to the Football Writers Association of America (FWAA) 75th Anniversary All-America Team. Jones was named as a second team offensive lineman as the FWAA selected three teams on both offense and defense, along with specialists.
The team was announced Thursday in celebrating the association's All-America teams from near the end of World War II through the 2014 season. The FWAA, which was founded in 1941, has picked an annual All-America team since the 1944 season, making it the second longest continuously selected team in major college football.
Jones was a three time first team All Big Ten guard. He made 22 All American teams during his career, including a record 15 in 1954. The two way guard was part of the "Steubenville Trio" (along with Frank Gilliam and Eddie Vincent) to come to Iowa from Steubenville, Ohio, in the mid 1950s.
As team captain in 1955, Jones earned the prestigious Outland Trophy, given to the nation's top interior lineman. He was a consensus All American twice, one of only two Hawkeyes to earn the honor in more than one season. Jones is an elected member of the National Football Foundation and Helms Athletic Foundation Halls of Fame. His No. 62 is one of two retired numbers at Iowa (No. 24, Nile Kinnick).
Jones was a member of the inaugural class of Iowa Varsity Club Hall of Fame. He was also chosen to Iowa's all time football team in 1989. Off the field, Jones earned a 3.0 grade point average. Jones died as a result of a plane crash in Canada on Dec. 9, 1956.
A nomination ballot with selected players from all FWAA All-America teams was sent to the entire membership this spring. The popular vote was then taken into consideration by a Blue Ribbon Committee of FWAA past presidents, current board members and officers. That committee put the finishing touches on selecting the 75-man team. In order for a player to be considered for the FWAA's 75th team, he had to be on a previous FWAA All-America team.
Founded in 1941, the Football Writers Association of America consists of 1,400 men and women who cover college football. The membership includes journalists, broadcasters and publicists, as well as key executives in all the areas that involve the game. The FWAA works to govern areas that include game-day operations, major awards and its annual All-America team.