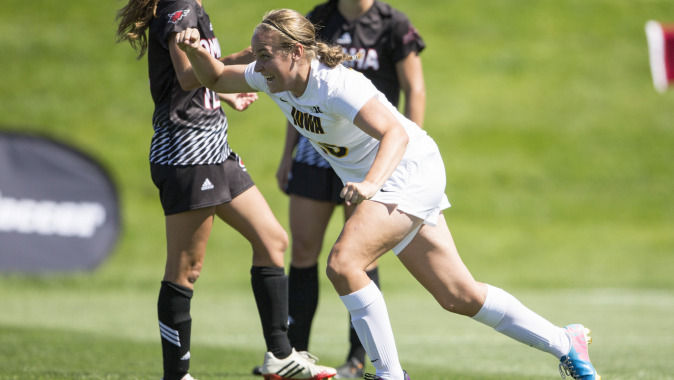 Aug. 24, 2015
Editor's Note: The following first appeared in the University of Iowa's Hawk Talk Daily, an e-newsletter that offers a daily look at the Iowa Hawkeyes, delivered free each morning to thousands of fans of the Hawkeyes worldwide. To receive daily news from the Iowa Hawkeyes, sign up HERE.
By JAMES ALLAN
hawkeyesports.com
IOWA CITY, Iowa — When freshman Alina Magruder entered Sunday's game as a reserve against Nebraska Omaha, she wanted to make a difference.
She did.
The forward scored two of Iowa's four goals, leading the Hawkeyes to a 4-0 victory over the Mavericks at the Iowa Soccer Complex. The win moves Iowa's record to 2-0 to start the year for a fourth-straight season.
"It felt good, I wanted to help the team out," said Magruder, a midfielder/forward from Mustang, Oklahoma. "No matter how much time you get, (head coach) Dave (DiIanni) always tells us to make a difference. Going in there and scoring two goals, I felt like I did that. I felt like I helped my team out."
With 19 first or second year players on the 2015 roster, DiIanni is learning about the 2015 Hawkeyes on the fly. He's juggling starting lineups and playing time, looking to find the right chemistry.
On Sunday, 22 players saw game action, and Friday's star — junior Bri Toelle, who scored the game-winner in the 1-0 triumph over Pacific — came off the bench for the first time since 2013 (her freshman season).
"We played a lot of players (Sunday)," said DiIanni. "We wanted to see who was going to create a little bit of a spark and who could find themselves in our system. We haven't figured out who is best coming off the bench or who's better starting."
Three players scored in the win and all three strikes were first career goals. Five players tallied their first career points.
Redshirt freshman Jenna Kentgen netted the game winner in the 34th minute on an assist from junior Rachele Armand before Magruder found the net in the 81st minute. Iowa broke the match open on a Karly Stuenkel goal at the 85:52 mark before Magruder scored 29 seconds later for her second goal of the contest.
Toelle was credited with three assists in the game, tying the program record for assists in a single game. Sophomore Abbey Toureene's also assisted on the final strike.
"We had so many contributors for all the goals and that's good for our team for how young we are," said junior defender Corey Burns. "Having the freshmen score is a great kickoff for us and it will boost our confidence. Now they have their confidence up, it can keep rising."
DiIanni is dangling opportunity, and he's stressing the importance of taking advantage of opportunities. He wants the Hawkeyes to use their chances to make a difference.
"We need their best effort all the time," he said. "The only thing you can control is taking care of the minutes we give you. (By playing so many) we're creating depth and that's going to be vital when we get to the Big Ten (portion of the schedule).
"We need to keep going one or two steps forward versus two forward and one back and be a bit more progressive in how we get better."
The Hawkeyes return to action Friday, hosting South Dakota State at 7 p.m. (CT) at the Iowa Soccer Complex.