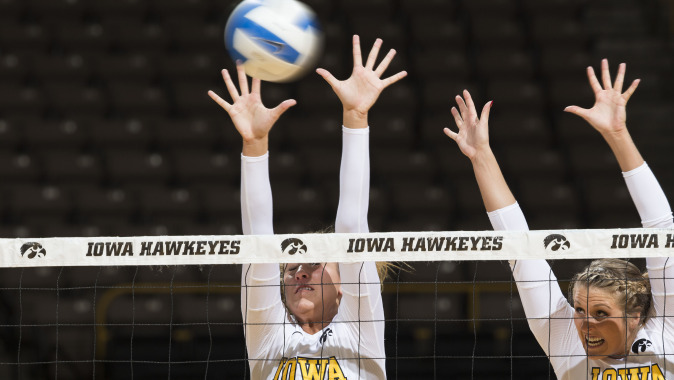 Aug. 30, 2015
Box Score

DEKALB, Ill. — The University of Iowa volleyball team battled but fell to Northern Illinois, 3-1, on Sunday afternoon at the Northern Illinois Invitational. The Hawkeyes went 2-1 on the weekend to earn a share of the tournament title (NIU, Pacific).
Junior Lauren Brobst and sophomore Jess Janota were named to the all-tournament team following the match.
"This was a big match moment," said head coach Bond Shymansky. "We were in a really great environment at Northern Illinois. It was just all the little details at the end. It was a packed house, and I could tell it rattled our group. We just have to work on responding to those nerves, and that's on us as a coaching staff. It's the first weekend of the year and things like that can happen."
It took nine ties and four lead changes to decide the set one winner. After a back in forth battle, the Hawkeyes went on a 6-0 run with the help of back-to-back aces by freshman Molly Kelly and kills by sophomore Jess Janota and senior Mikaela Gunderson. A late Huskie surge proved to be the difference maker as they came back to tie the set at 25 and ultimately win the first set, 27-25.
After dropping the second set, 25-17, Iowa fired back in set three. Northern Illinois got out to an early 6-1 lead before the Hawkeyes went on a 6-0 run. An ace by sophomore Taylr McNeil, a solo block by junior Lauren Brobst, and a combined denial from Gunderson and Janota aided the Hawkeye rally. They never looked back from there, winning the third set, 25-21.
Down, 20-13, in the fourth set, the Hawkeyes used a 7-0 run to fight their way back. Junior Loxley Keala served up the run and contributed an ace to the rally, while sophomores Taylr McNeil (2) and Jess Janota (1) recorded kills. After eight ties and five lead changes in the last 19 serves, the Huskies came out on top, winning the set 30-28 and the match 3-1.
"I was really impressed with our group," said Shymansky. "We took a timeout there down seven. I just told them 'you're winded, you're tired, and you're drained. That's why we did two-a-days and three-a-days in preseason. You could respond right now.' And they actually did. Our group has something. We have something unique and we have something special this year.
"There aren't a lot of silver linings to losing, but we have to find ourselves and learn how to better prepare and respond in tight moments like that. We just have a couple other spots that we need to get some more production out of. When we find that balance we are going to be a really good team."
Brobst paced the Hawkeye offense with 21 kills. Keala dished out 51 assists, sophomore Annika Olsen posted 20 digs, and Gunderson recorded five blocks.
The Hawkeyes return to action at the Hawaiian Airlines Wahine Volleyball Classic in Honolulu on Sept. 5-6.
| | | | | |
| --- | --- | --- | --- | --- |
| Iowa at Northern Illinois | 1st | 2nd | 3rd | 4th |
| Iowa (2-1) | 25 | 17 | 25 | 28 |
| NIU (2-1) | 27 | 25 | 21 | 30 |
Statistical Leaders
Kills: Brobst (IOWA) 21 | Kelly (NIU) 18
Assists: Keala (IOWA) 51 | Gonzalez (NIU) 28
Digs: Olsen (IOWA) 20 | Brereton (NIU) 15
Blocks: Gunderson (IOWA) 5 | Radtke (NIU) 8