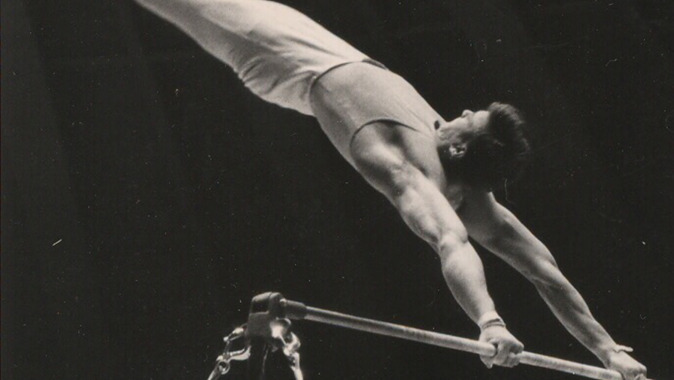 Sept. 3, 2015
BY JACK ROSSI
hawkeyesports.com
IOWA CITY, Iowa — For the fourth time in the last five years, a former men's gymnast will be inducted into the National Iowa Varsity Athletics Hall of Fame.
Neil Schmitt competed on the men's gymnastics team from 1966-68 where he was a three-year letterwinner, two-time team captain and an All-American on high bar at the 1967 NCAA Championships. Schmitt also served as an assistant coach on the 1969 NCAA Championship team with former head coach Dick Holzaepfel.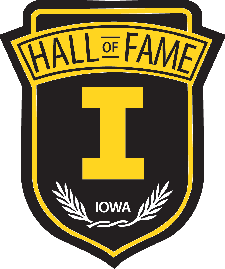 Schmitt joins former coaches Sam Bailie and Holzaepfel and former teammates Don Hatch, Keith McCanless, and Glenn Gailis in the Hall of Fame.
He is one of seven inductees in the Class of 2015, along with Don Norton (football), Lori (Cole) Klimek (women's gymnastics), Karen Jackson (softball), Jim Heffernan (wrestling), Tom Roemer (men's swimming and diving), and Bill Brashier (football coach).
"Making the Hall of Fame is just a verification of how effective the system was that Dick (Holzaepfel) set up," Schmitt said. "I was a great athlete, but I got so much out of the environment. It had a huge effect on how I performed."
Holzaepfel implemented a hierarchal coaching system where the coaches would teach the upperclassmen and the upperclassmen would teach the underclassmen.
"It helped build a wonderful, strong team unity," Schmitt said. "Everybody understood what a teammate was and everybody helped each other out. It was a positive environment."
Entering his freshman year out of Addison, Illinois, Schmitt learned from one of the most accomplished gymnasts in Iowa history. Gailis was entering his senior season and had Schmitt following his every move.
"It had a great impact on me by seeing how intense his workouts were," Schmitt said. "It gave me a clear understanding of how much harder one could work. Glen was about 5-foot-6, and I was 5-11, so that's a huge difference. It dawned on me that I would have to be twice as strong as him to even be close to being competitive in the future."
Gailis went on to earn All-America honors on rings and all-around that season.
During his junior year, Schmitt entered the season with a new coach in Sam Bailie. The team cruised to its first Big Ten title since 1937 with a 7-2 record and capped it off with Schmitt being named an All-American on high bar for the first time since Bailie did so in 1955.
Since graduation, gymnastics has still been present in Schmitt's life whether it is the friends that were made or skills he gained.
Along with a short coaching stint, Schmitt opened the Iowa Gym Nest that has become one of Iowa's biggest gymnastics programs. He most recently attended the 40th anniversary of the startup of the gym.
Now living in Colorado, Schmitt has been employed by Hewlett-Packard for 25 years and says the training he did in the gym has helped him outside of it.
"Gymnastics taught a lot of good habits and one was that hard work pays off," Schmitt said. "I have tried to use that same mindset when doing my current business at Hewlett-Packard."
Schmitt has found himself in Iowa City a lot recently. He returned for the Hall of Fame inductions for all his former teammates and coaches, but this time, the tables will be turned.
"I am tickled," he said. "I couldn't have done better in my choice of where I went to school."