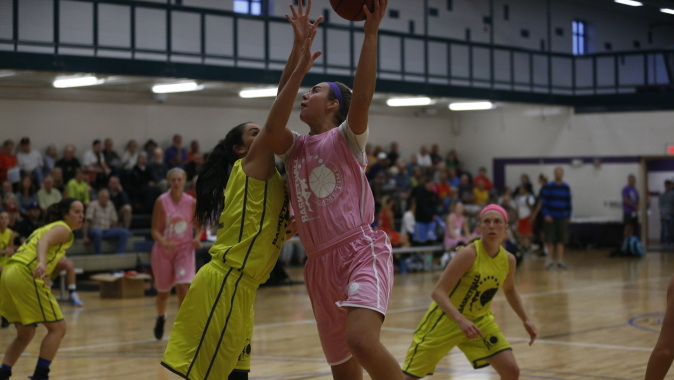 Sept. 5, 2015
Editor's Note: The following first appeared in the University of Iowa's Hawk Talk Daily, an e-newsletter that offers a daily look at the Iowa Hawkeyes, delivered free each morning to thousands of fans of the Hawkeyes worldwide. To receive daily news from the Iowa Hawkeyes, sign up HERE.
By JIL PRICE
IOWA CITY, Iowa — The University of Iowa women's basketball team gained a versatile asset with the addition of freshman Hannah Stewart — a three-sport start from Minot, North Dakota.
Stewart, a two-time Athlete of the Year for the state of North Dakota, was an all-district and all-region honoree in volleyball, and a four-time all-state selection in softball, throwing a no-hitter at state as a pitcher, played shortstop, and helped her team to three consecutive conference titles and state runner-up finishes.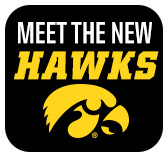 On the hardwood, the four-time all-state, all-region, and all-district basketball honoree was also named North Dakota Miss Basketball and Gatorade North Dakota Girls Basketball Player of the Year. When it came to choosing a sport for college, Stewart continued a family tradition. Her father, Peter, and mother, Julie, both played the sport at North Dakota.
"Basketball has always been something deeply engrained in my family," Stewart said. "Both of my parents played and are basketball coaches, so I always knew it was something I would want to continue on with.
"Basketball was always something I couldn't picture myself not doing. That day is going to come eventually, but I didn't want it to come yet."
When it came down to picking a program, Stewart was looking for team chemistry — a trait she identified immediately when she visited Iowa.
"The main reason I chose Iowa was for the team chemistry," Stewart said. "That was a big part of where I was going to go and it was obvious when I got here how close the team was.
"The coaches have the track record that proves they know what they're doing, too. They're great people and that was another big selling point for me."
Stewart's versatility in athletics continues on the basketball court. When she arrived in Iowa City for summer training and to compete in Game Time League, the Hawkeye coaching staff saw her fitting in at the three, four, or five positions in the lineup.
Following the team's 10 practices and Italian Tour in August, it was decided that the four was her best fit. Since then, the forward has been learning from and shadowing a pair of seniors.
"Being able to watch Kali (Peschel) and Claire (Till), who play a lot at the four has helped me," Stewart said. "They're senior leaders and have had a lot of experience on this team. Having them to watch has helped with my transition, especially seeing the role a four plays at Iowa."
In three games overseas, Stewart contributed off the bench, averaging eight points and four rebounds. Playing as a Hawkeye for the first time was an experience she won't soon forget.
"It was awesome to be playing with the girls I've been watching over the last few years," Stewart said. "I just love basketball. Being on the court and playing the game with my best friends is the best thing.
"It's an amazing feeling after you get a win. You do what you can for your coaches and Iowa, but being able to play a sport together is awesome."
Following the trip overseas, Stewart and the Hawkeyes feel ready and comfortable with one another heading into the upcoming season.
"I feel lucky to have that especially being a freshman," Stewart said. "The 10 practices showed us what it was going to be like when we start in October. We feel more prepared. The games in Italy showed us what game pace will be like and what preparing for a game is going to be like.
"Overall, it made us closer as a team and helped us as freshmen get comfortable with everything. It was advantageous for us to have that experience."
Iowa opens the regular season, hosting the Hawkeye Challenge from Nov. 13-15. The Hawkeyes seek their ninth consecutive NCAA Tournament berth.