Box Score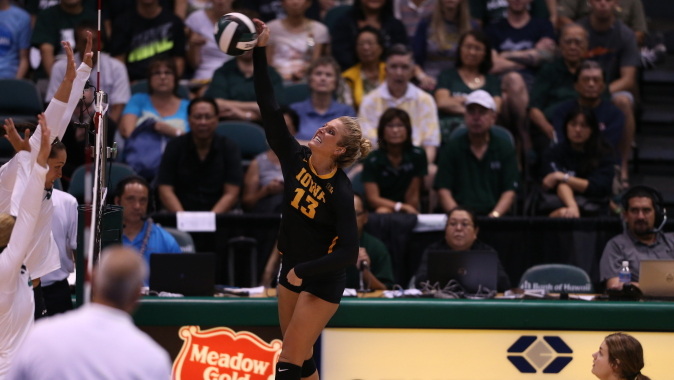 Sept. 5, 2015
HONOLULU — Four Hawkeyes reached double digits in kills as the University of Iowa volleyball team defeated American 3-1 on Sunday afternoon in Hawaiian Airlines Wahine Volleyball Classic action. Iowa improves to 3-3 on the season, while American falls 3-4.
"What a great offensive performance, especially for our slide hitters," said head coach Bond Shymansky. "They did a great job of getting mentally and emotionally ready and keeping the intensity all the way through the match."
Junior Lauren Brobst led the offensive attack for the Hawkeyes with 16 kills, while senior Mikaela Gunderson recorded a career-high 14. Junior Ashley Mariani and sophomore Jess Janota added 10 kills apiece as the Hawkeyes hit .301 on the afternoon.
Sophomore Annika Olsen posted a team-high 22 digs in the contest, junior setter Loxley Keala dished out a team-leading 46 assists, and Gunderson led the squad in blocks with four.
Iowa controlled the momentum in set one. The Hawkeyes used a 6-0 run to establish a lead and coast to a 25-15 set one win. Brobst led the offense with five kills in the set, while Janota (four kills) and Gunderson (three kills) each recorded a .500 attack percentage.
The Hawkeyes got out to a 5-1 lead in set two before the American offense warmed up. The Eagles used a .406 hitting percentage and 15 kills to win the set, 25-21, and even the match at one game apiece.
After trading points early, the Hawkeyes amped up the intensity in set three. Brobst had the hot hand in the set, recording six of Iowa's 14 kills, while Keala dished out 11 assists. Three of Brobst's six kills came in the last five Iowa points to help the Hawkeyes to a 25-22 third-set victory.
Iowa remained in control in the fourth set, using a four-point run to establish a lead. They never lost it from there, recording a .452 attack percentage and 16 kills. Mariani led the set with five kills, while Gunderson added four.
"American is a really good team," said Shymansky. "They have been to the NCAA Tournament a bunch of times in the last 10 years. I really liked the physical effort that we gave them. As a team to hit .300, it was a great night. I'm just really proud of our gals."
In three matches in her home state, Keala dished out 93 assists. She also recorded six kills and 31 digs. Brobst paced the Hawkeyes in kills (34) and blocks (9), and Olsen led the team in digs (50) in three tournament matches.
"It was great to watch Loxley have this homecoming here in Hawaii and watch her perform the way she did," Shymansky said. "She did a great job of leading our team to victory today. I'm just really proud of how we keep growing and getting more fluid as a unit."
The Hawkeyes open their home slate, hosting the Comfort Suites Challenge on Sept. 11-12. Iowa faces Wisconsin-Milwaukee at 11 a.m. (CT) before taking on Iowa Corn Cy-Hawk Series foe Iowa State at 8 p.m. on Friday, Sept. 11. Iowa concludes weekend action with a 7 p.m. contest against Texas A&M on Sept. 12.
| | | | | |
| --- | --- | --- | --- | --- |
| Iowa vs. American | 1st | 2nd | 3rd | 4th |
| Iowa (3-3) | 25 | 21 | 25 | 25 |
| American (3-4) | 15 | 25 | 22 | 19 |
Statistical Leaders
Kills: Brobst (IOWA) 16 | Kazala (AU) 12
Assists: Keala (IOWA) 46 | Smidova (AU) 37
Digs: Olsen (IOWA) 22 | Cappellino (AU) 14
Blocks: Gunderson (IOWA) 4 | Smith (AU) 7