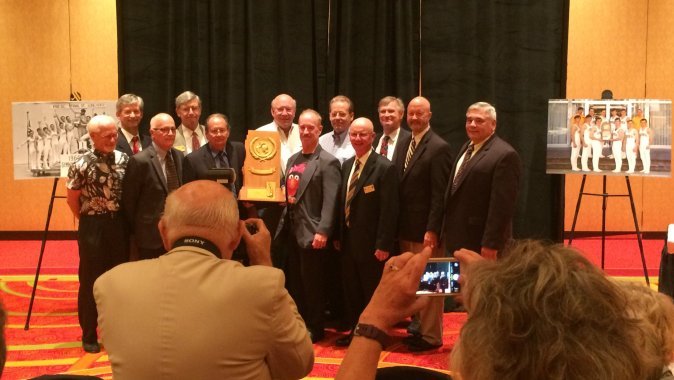 Sept. 11, 2015
BY JACK ROSSI
hawkeyesports.com
IOWA CITY, Iowa — In 1969, a perfect storm was brewing for University of Iowa men's gymnastics program inside the UI Field House. Head coach Mike Jacobson led a determined group of Hawkeyes to the university's first-ever national championship.
Last weekend — over 40 years later — the 1969 team was reunited in Iowa City to reflect on its successes, see Neil Schmitt inducted into the Hall of Fame with the 2015 class, and interact with the current Hawkeye squad.
Schmitt became the fourth member of the 1969 team to earn a Hall of Fame nod. Keith McCanlesss was the first, earning the honor in 2011, followed by Sam Bailie in 2013 and Donald Hatch, Jr., in 2014.
"This was a really cool weekend for everybody," sixth-year UI head coach JD Reive said. "It was a very bright, unique fit of guys that got together at the right time. Each guy on that team wanted to be better than the other and it created this unity that still came across clear as day in 2015. This is what you want a college team to be like and for our guys to see it was inspiring."
From the moment the 1969 team walked in to the newly renovated gym, they acted like they were in college again.
"It was an amazing experience to see them come into the gym," freshman Jake Brodarzon said. "It looked like they never left as a team. They were all laughing, talking about old times, and reminiscing about when they won the championship.
"Forty years later, we are still here working for that dream they accomplished."
By interacting with and talking to another generation of gymnasts, the current team gained a new perspective of its sport, one they had never experienced before.
"It was completely different, they called high bar the pipe," senior Matt Loochtan said. "They had no grips, instead they used tape, but they still ripped their hands open. And the floor was hardwood with maybe a two-inch mat on it."
While the UI Field House remains the same, the newly renovated practice facility is very different. When the 1969 champions entered the old gym, they were blown away and impressed that a modern facility could have the same historic feel.
Former head coach and Iowa gymnast Sam Bailie made his first stop at the pommel horse, an event he competed and coached during his time at Iowa. He was innovative on the apparatus and has the legacy to show it with a skill called the Bailie.
"He invented a skill on pommel horse that is still used today and he did it in this gym," Brodarzon said. "We do that skill every day in warm-ups. To think that he is the guy who invented it and can tell us the story of how it came to be was so cool."
Interacting with gymnasts who achieved their ultimate goal has inspired today's Hawkeyes to strive for more. The group heads into its 2015-16 season with inspiration and renewed motivation.
"This is a special place and this was a special group of guys," Reive said. "We want to go out there and win. We want to do that and bring a trophy back to Iowa City."
As the 1969 team exited the gym, each alum had a simple message for Reive and the team, "Get after it."