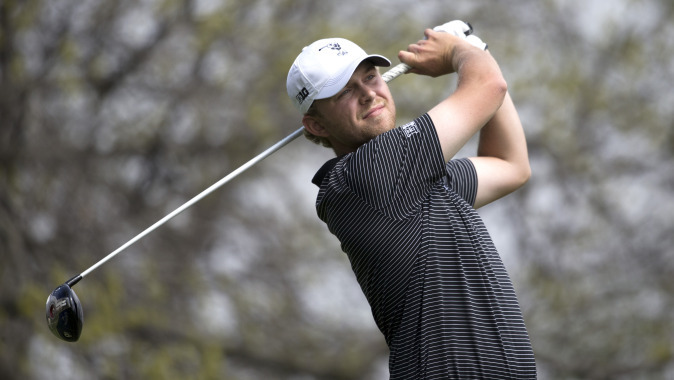 Sept. 14, 2015
Final Results

MINNEAPOLIS — The University of Iowa men's golf team tied for ninth-place at the 11th annual Gopher Invitational. The Hawkeyes recorded a 293 on Monday on the final 18 holes at Windsong Farm Golf Club in Independence, Minnesota, posting an 892 (+40; 299, 300, 293) during their 2015-16 season-opening tournament.
Oklahoma won the 15-team tournament (854, +2). The Sooners' Max McGreevy was the tournament medalist at seven-under-par (206; 70, 70, 66).
"We had an opportunity to make a move today and we didn't take advantage," said UI head coach Tyler Stith. "Ray and Nate led us with solid top 20 finishes."
Junior Raymond Knoll led the way for the Hawkeyes, finishing in a tie for 14th place (220, +7; 74, 70, 76). Senior Nate Yankovich jumped 16 spots on the individual leaderboard to finish right behind Knoll, carding four birdies for an even-par 71 in today's final round to end the two-day tournament in a tie for 17th place (221; +8). Yankovich recorded first and second round totals of 72 (+1) and 78 (+7).
Carson Schaake wrapped up play at the Gopher Invitational with a two-over-par 73 in Monday's final round. The junior tied for 39th place (225, +12; 77, 75, 73).
Making his collegiate debut this weekend, freshman Matthew Walker finished in a tie for 55th place at the Gopher Invitational, carding a three-round 227 (+14; 76, 78, 73). Sophomore Sam Meuret finished in 78th place (244, +31; 87, 77, 80).
"We have time before our next event," said Stith." We will use that to clean a few things up."
Following a week off from competition, the Hawkeyes return to action on Sept. 24-27 to host the seventh annual Golfweek Conference Challenge at Spirit Hollow Golf Course in Burlington, Iowa.