Sept. 16, 2015
By CHRIS BREWER
hawkeyesports.com
IOWA CITY, Iowa — The University of Iowa hosts Pittsburgh on Saturday in the first of two night games this season at Kinnick Stadium. The Hawkeyes and Panthers kick off at 7:12 p.m. (CT). It marks the 11th time in school history Iowa hosts a football game under the lights. The 12th night game is Nov. 14 when Minnesota visits for a 7 p.m. kickoff.
"Night games are really special just in general," said UI head coach Kirk Ferentz. "(Kinnick) is a great place to be, so we are excited to play at home. It's a great thing. I think our fans are excited about it, and hopefully we'll play well Saturday."
The Hawkeyes are 6-4 in night games at Kinnick Stadium. Each game went something like this:
Iowa 7, Miami (Fla.) 24
Sept. 5, 1992
A then-record 70,397 fans witnessed defending national champion Miami score two fourth-quarter touchdowns to pull away from 23rd-ranked Iowa in the first-ever night game at Kinnick Stadium. The top-ranked Hurricanes were led by Heisman Trophy winner Gino Torretta, who broke Chuck Long's stadium record by passing for 433 yards.
Iowa 24, Northern Illinois 0
Sept. 18, 1999
Ladell Betts rushed for 174 yards and a touchdown, and LeVar Woods returned a blocked field goal 87 yards to lead Iowa to the first win in the Kirk Ferentz era. Randy Reiners completed 13-of-18 pass for 145 yards and added a rushing score. Tariq Holman had eight tackles and set up Reiners' touchdown with a fourth-quarter interception.
Junior LeVar Woods scoops up a blocked field goal and returns it 87 for a touchdown in Iowa's 24-0 win against Northern Illinois in 1999. Woods, now a tight ends and special teams coach for the Hawkeyes, helped deliver Kirk Ferentz his first win as head coach at the University of Iowa.
Iowa 31, Iowa State 36
Sept. 14, 2002
Iowa State scored 23 unanswered points in the third quarter to erase a 24-7 halftime deficit and hand Iowa its only regular season defeat. Fred Russell scored on a 46-yard touchdown rush on the second play of the game, but he missed most of the second half because of injury and finished with 151 yards on 17 carries. Seneca Wallace passed for 361 yards and one touchdown for the Cyclones. Iowa went on to win its final nine regular season games and finished the season with an 11-2 record and a trip to the 2003 FedEx Orange Bowl.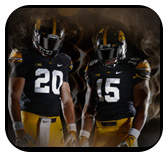 Iowa 21, Arizona State 2
Sept. 20, 2003
No. 16 Arizona State jumped on a fumbled snap to grab a 2-0 first-quarter lead, but the 14th-ranked Hawkeyes scored 21 unanswered points to improve to 4-0 and extend their regular season winning streak to 13 games. Scott Chandler threw three touchdown passes, two to Ramon Ochoa, and linebackers Chad Greenway and Abdul Hodge combined for 32 tackles.
Iowa 17, Ohio State 38
Sept. 30, 2006
The top-ranked Buckeyes handed 13th-ranked Iowa its first loss of the season. Drew Tate threw for 249 yards, including a touchdown pass to Andy Brodell, but was intercepted three times. Mike Klinkenborg (13) and Charles Godfrey (12) both recorded career bests in tackles.
Iowa 35, Syracuse 0
Sept. 8, 2007
Jake Christensen threw for a career-high 278 yards, Tony Moeaki caught three touchdowns, and Kenny Iwebema blocked two field goals to lead Iowa in Kirk Ferentz's 100th game as head coach. The Hawkeyes scored on four straight first-half possessions and held Syracuse to 103 total yards in the 2007 home opener.
Iowa 30, Michigan 28
Oct. 10, 2009
Brett Greenwood intercepted Michigan on the Wolverines' final drive to seal Iowa's 30-28 win on Homecoming. Greenwood's interception was the fifth turnover forced by the Hawkeyes. Michigan recorded a pick-six on the second play of the game, but Ricky Stanzi bounced back with a 34-yard scoring strike to Tony Moeaki to tie the game. Stanzi finished with 284 yards and two touchdowns. Six receptions and 105 yards went to Moeaki, the Big Ten Offensive Player of the Week.
Iowa 24, Penn State 3
Oct. 2, 2010
Ricky Stanzi rushed for one touchdown and threw for another to lead Iowa to a 24-3 Homecoming win. The Hawkeyes scored the first 17 points of the game and held Penn State scoreless in the second half. True freshman James Morris had a career-best seven tackles in his Hawkeye debut.
Iowa 41, Northwestern 31
Oct. 15, 2011
The Hawkeyes scored on four consecutive fourth-quarter possessions to hold off Northwestern, 41-31. The Hawkeyes led 17-0 before the Wildcats rallied to tie the game, 17-17, with 4:19 left in the third quarter. Marcus Coker delivered a pair of fourth-quarter touchdowns and Marvin McNutt, Jr., hauled in a 35-yard scoring strike from James Vandenberg. Tanner Miller had a career-high eight tackles and returned an interception 98 yards for Iowa's first score.
Iowa 14, Penn State 38
Oct. 20, 2012
Penn State led 38-0 before Iowa cracked the scoreboard with Jordan Cotton's 98-yard kickoff return. James Vandenberg hit Keenan Davis for an 18-yard touchdown for Iowa's final score, but Penn State limited the Iowa offense to 209 total yards.
Iowa vs. Pitt
Sept. 19, 2015
Saturday is the annual Black and Gold Spirit Game, as well as America Needs Farmers Day. Fans sitting in even-numbered sections are asked to wear gold. Fans in odd-numbered sections, and all UI students, are asked to wear black. Tickets are available by contacting the UI Athletics Ticket Office at 1-800-IA-HAWKS or visiting hawkeyesports.com.