Box Score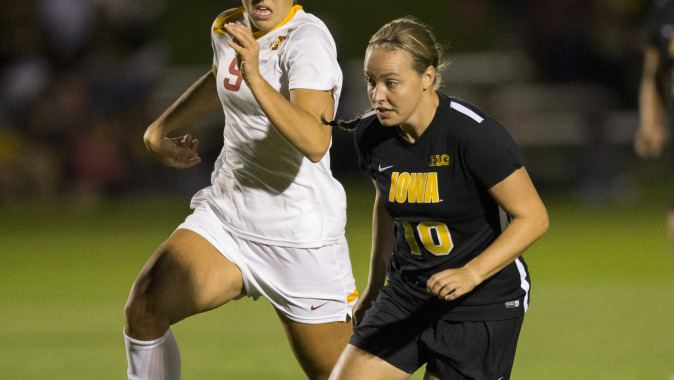 Sept. 18, 2015
EAST LANSING, Mich. — Two early goals from Michigan State were too much to handle for the University of Iowa women's soccer team, as the Hawkeyes fell, 2-1, on Friday afternoon at the DeMartin Soccer Complex.
"It's hard to win in the Big Ten when you give up a goal so early in the game against a team like Michigan State that is so strong defensively," said head coach Dave DiIanni. "Our reaction immediately after was to get a goal back and climb within a 2-1 deficit heading to the half.
"The [Iowa] team that showed up in the second half won't be very successful in Big Ten this year with that approach."
The Spartans snuck a goal one past senior goalkeeper Hannah Clark in the first two minutes of the game when Alexis Warner secured a pass from Jamie Cheslik and fired a shot from 10 yards out.
Iowa fired back, peppering five shots at Michigan State goalkeeper Gabrielle Gaurder in 10 minutes in an effort to net the equalizer, but instead the Spartans stretched their lead in the 37th minute on a second goal from Warner.
The Hawkeyes got on the board in the 40th minute on a strike from freshman Alina Magruder. The forward secured a pass from sophomore Karly Stuenkel at the top of the box and fired it into the net to cut the deficit to 2-1. It was Magruder's third goal of the season.
In the second half, Iowa had a chance to tie things up in the 79th minute. Freshman Karsen Rauch sent a shot at the Spartan goal, but Gaurder was there to make the save — one of three in the contest.
Clark finished with five saves in 90 minutes of action. Michigan State out-shot Iowa, 14-8 for the game, including a 7-4 advantage in shots on goals. The Spartans also had a 4-0 advantage in corner kicks.
The Hawkeyes (6-2-0, 0-1-0) are back in action on Sunday, traveling to Ann Arbor to face Michigan. Game time is set for 11 a.m. (CT) at the U-M Soccer Stadium. The game will be streamed live on BTN Plus.