Sept. 21, 2015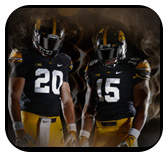 IOWA CITY, Iowa — The Iowa Hawkeyes and Hy-Vee are teaming up to provide fans of the Iowa football team a very special offer that's pretty straightforward: Buy at least four full-priced single-game tickets to any of one of three games remaining on the Hawkeyes' 2015 home schedule and receive a $40 gift card to use at your local Hy-Vee.
The events that are included in this special offer are the following:
This Saturday — Sept. 26 — against North Texas (Game time is 2:30 pm)
Oct. 31 against Maryland (Game time to be determined)
Nov. 21 against Purdue (Game time to be determined)
The purchase of discount-priced youth tickets — tickets intended for use by boys and girls 18-years-0old or younger — do not count toward meeting the minimum purchase of four (4) tickets required by this special offer.
Also, only orders that meet the minimum ticket purchase requirement and made between Monday, Sept. 21, and midnight, Friday, Oct. 2, qualify.
Fans interested in making a qualifying purchase must make that purchase online. To do so, they should click HERE and enter the following in the empty space:
HYVEEANDTHEHAWKEYES (ALL CAPS, no spaces)
Questions? Contac t the External Relations Office of the UI Athletics Department at (319) 335-9431.