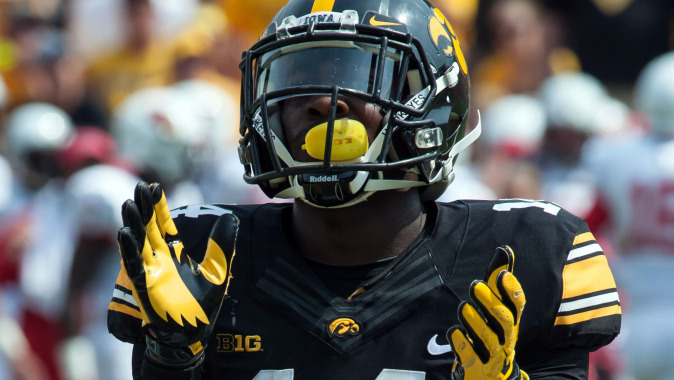 Sept. 21, 2015
Editor's Note: The following first appeared in the University of Iowa's Hawk Talk Daily, an e-newsletter that offers a daily look at the Iowa Hawkeyes, delivered free each morning to thousands of fans of the Hawkeyes worldwide. To receive daily news from the Iowa Hawkeyes, sign up HERE.
By DARREN MILLER
hawkeyesports.com
IOWA CITY, Iowa — Another key fourth quarter return and two interceptions leading to a third team victory.
In other words, another Saturday in the life of University of Iowa cornerback Desmond King.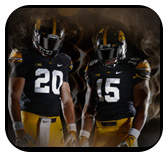 King was one of the "other" Hawkeye heroes Sept. 19, a night when the right foot of Marshall Koehn deserved most of the attention following a 27-24 win against Pittsburgh. It will never be known if Iowa's offense would have advanced as far as the Panther 39-yard line in the final 52 seconds if King doesn't first field a squibbed kickoff by Chris Blewitt and return it 27 yards up the Panther sideline.
"We just made something out of nothing," King said.
Kind of like making a 34-yard punt return at Iowa State the weekend before, setting up a game-winning touchdown .
Excelling in the return game isn't the only way King has given the Hawkeye offense fuel and momentum. He spent most of 60 minutes Saturday defending Tyler Boyd, Pittsburgh's junior receiving phenom. Boyd finished with 10 catches, 131 yards, and a game-tying 8-yard touchdown reception with 52 seconds left…when he was not defended by King.
"I always like to go against the best guy in the country," King said. "Iron sharpens iron, so we are going to make each other better. I knew it was a big test and I wanted to take it."
Boyd had his catches, but so did King.
"I always like to go against the best guy in the country. Iron sharpens iron, so we are going to make each other better. I knew it was a big test and I wanted to take it."

Desond King
UI junior cornerback
The 5-foot-11, 200-pound junior from Detroit put an end to the first two Pittsburgh drives when twice he intercepted Panther quarterback Nate Peterman. Both came while guarding Boyd and the second was a diving catch in the Hawkeye end zone.
"That is my job, to get the ball for our offense and get them in good field position so we can get points on the board," said King, who between the Iowa State and Pittsburgh games, had interceptions in three of four drives.
If you look at Iowa's return yardage after three games, it is all King. He has five kick returns for 96 yards (19.6 average), five punt returns for 60 yards (12.0), and three interception returns for 11 (3.7).
"I want to be a defensive booster to give the offensive momentum," King said. "I want to get the ball back in their hands and see what they could do with it."
The Hawkeyes know all about Boyd. Last season — during Iowa's 24-20 win at Heinz Field, Boyd caught 10 passes for 153 yards; he was named to several All-America teams. Boyd sat during a season opening 45-37 victory against Youngstown State after an arrest in June for DUI, but he has made up for lost time since. In his first two games of 2015, Boyd has 21 receptions for 226 yards.
"I knew they were going to try to get the ball to him, it was a good matchup between me and him," King said. "It was a back and forth battle, I had some losses, he had some losses. It was a good experience."
King might have had a few losses, but he also finished with a very big win. A team win, leaving the Hawkeyes with a 3-0 record to start a season for the first time since 2009.
Iowa returns to Kinnick Stadium on Sept. 26 to host North Texas with kickoff set for 2:30 p.m. (CT). The Mean Green are 0-2 with losses to Southern Methodist University and Rice.