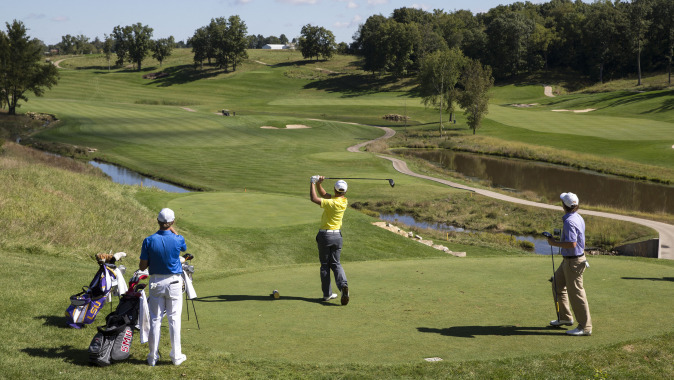 Sept. 23, 2015
Weekly Release

THIS WEEK
The University of Iowa men's golf team is back in action this weekend, hosting the annual Golfweek Conference Challenge on Sept. 25-27 in Burlington, Iowa. The tournament will be held at Spirit Hollow Golf Course for the sixth consecutive season. The first round will begin on Friday at 9 a.m (CT), with the second round beginning at 9 a.m. on Saturday. Sunday's final round will begin via a shotgun start at 8:30 a.m., and the Golfweek Awards Ceremony will follow. Teams will play 18 holes each day, and 54 total.
LINK UP WITH THE HAWKEYES
For an inside look at the men's golf program and to access exclusive coverage, "like" Hawkeye men's golf on Facebook and follow @IowaHawkeyeGolf on Twitter and Instagram.
THE FIELD,br> Fifteen teams will represent 15 conferences at this year's Golfweek Conference Challenge. Iowa (Big Ten), Army (Patriot League), Charleston Southern (Big South), Eastern Michigan (MAC), Furman (Southern), Idaho (Big Sky), Kansas State (Big 12), Long Beach State (Big West), LSU (SEC), North Carolina State (ACC), Pacific (WCC), San Jose State (Mountain West), SMU (Southland), Southern Illinois (MVC), and VCU (Atlantic-10) make up the field.
THE COURSE
The 18-hole "Spirit Hollow" course at the Spirit Hollow Golf Course facility was ranked the No. 1 golf course in the state of Iowa in 2012. With 7,223 yards of golf from the tips, this par 72 has a course rating of 73.1 with a slope rating of 134 on bentgrass. Spirit Hollow opened in 2000 and was designed by Richard Jacobson (ASGCA). Spirit Hollow has played host to the 2007 U.S. Amateur qualifier, the 2009 Iowa Senior Amateur Championship, the 2010 U.S. Open Qualifier, the 2011 Iowa Match-Play Championship and the 2012 Iowa Amateur Championship. Spirit Hollow has served as the host of the Golfweek Conference Challenge since 2010, the last time the Hawkeyes won the event.
THE LINEUP
1. Raymond Knoll (Jr.) 2. Nate Yankovich (Sr.) 3. Carson Schaake (Jr.) 4. Matthew Walker (Fr.) 5. Voromate Aussarassakorn (Sr.)
ELITE COMPETITION
Of the 15-team field, none are more notable than LSU. The Tigers won last year's GolfWeek Conference Challenge before going on to win an NCAA title in the spring. Former LSU Tiger Stewart Jolly won the event in 2013 and 2014.
SMU's Bryson DeChambeau headlines the long list of individuals competing this weekend. DeChambeau is one of the best at the collegiate level. This past summer he joined Jack Nicklaus (1961), Phil Mickelson (1990), Tiger Woods (1996), and Ryan Moore (2004) as the only golfers to win the NCAA Individual Championship and the U.S. Amateur title in the same year.
LAST TIME OUT
The University of Iowa men's golf team tied for ninth-place at the 11th annual Gopher Invitational. The Hawkeyes posted an 892 (+40; 299, 300, 293) during their 2015-16 season-opening tournament.
Junior Raymond Knoll led the way for the Hawkeyes, finishing in a tie for 14th place (220, +7; 74, 70, 76). Senior Nate Yankovich jumped 16 spots on the individual leaderboard to finish right behind Knoll, carding four birdies for an even-par 71 in the final round to end the two-day tournament in a tie for 17th place (221; +8). Yankovich recorded first and second round totals of 72 (+1) and 78 (+7).
3 HAWKEYES ON B1G PLAYERS TO WATCH LIST
Seniors Nate Yankovich and sophomores Raymond Knoll and Carson Schaake have been selected to the 2015-16 Big Ten Men's Golfers to Watch List.
Yankovich, a senior, competed in seven tournaments last year, averaging 75.29 strokes per round. The Blacklick, Ohio, native was second on the team with four top-20 finishes last season, including a season-best 10th place finish at the Hawkeye-Great River Entertainment Invitational.
Knoll, a junior from Naperville, Illinois, earned second team All-Big Ten and Division I PING All-Midwest Regional team honors in 2015. He was Iowa's top finisher in two events last year.
A Division I PING All-Midwest Regional Team selection, Schaake carried a team-best stroke average of 71.17 — the second-best total in program history. He provided Iowa's top individual finish in 7-of-10 stroke play tournaments, while recording four top-10 finishes and 18 rounds at or below par. The Omaha, Nebraska, native was a first-team All-Big Ten honoree, and was co-champion at last year's Big Ten Tournament.
HAWKEYE NEWCOMERS
Iowa's 2015-16 roster features three new faces and they each hail from the state of Iowa — Aaron DeNucci (Clive), Matthew Walker (Ottumwa), and Aaron Wirt (Des Moines).
7 STRAIGHT NCAA APPEARANCES
Iowa has advanced to NCAA competition in each of the last seven seasons, joining Illinois as the only Big Ten teams selected to NCAA Regional competition in each of the last seven seasons. Iowa has advanced to the NCAA Championship finals three times in the last seven years (2009, 2011, 2012).
A PROGRAM ON THE RISE
Iowa has won eleven tournaments since 2008 and has had 14 individual medalists since 2009, including Carson Schaake, who was crowned individual co-champion at last year's Big Ten Championships. The Hawkeyes have also had three All-Americans since 2008. Nineteen Iowa players have been named to the all-region team since 2009. Last season, Brian Bullington, Raymond Knoll, and Carson Schaake each earned Division I PING All-Midwest Regional honors.
QUOTING COACH STITH
"There is a wide spectrum of teams represented from a lot of different conferences across the country. In a way, it almost feels like a regional. A lot of teams that play in the GolfWeek Conference Challenge are NCAA Tournament caliber teams. We expect there to be a lot of good teams again this year and we're looking forward to the competition."
LOOKING AHEAD
Following the GolfWeek Conference Challenge, the Hawkeyes have a week off before heading to Louisiana for the David Toms Intercollegiate. The two-day tournament is hosted by LSU and begins on Oct. 10.