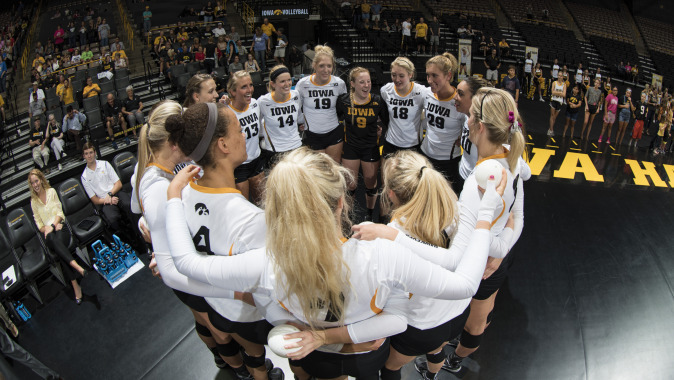 Sept. 26, 2015
Editor's Note: The following first appeared in the University of Iowa's Hawk Talk Daily, an e-newsletter that offers a daily look at the Iowa Hawkeyes, delivered free each morning to thousands of fans of the Hawkeyes worldwide. To receive daily news from the Iowa Hawkeyes, sign up HERE.
By BRANDEE BRITT
IOWA CITY, Iowa — Since the beginning of the season, the University of Iowa volleyball team has focused on one mantra — believe and achieve. The phrase — printed throughout the locker room — has become a pivotal way of thinking for the team starting to gain both local and national attention.
"There is some great momentum building inside and outside of our program right now," said second-year head coach Bond Shymansky. "Folks are going to come in (to Carver-Hawkeye Arena) and expect us to win, just like we are."
Following an eight-game winning streak that included wins over Iowa State and No. 25 Texas A&M, the Hawkeyes are receiving 24 votes in the AVCA Division I Coaches Poll.
Despite a loss to the fourth-ranked Huskers on Wednesday night in Carver-Hawkeye Arena, the team's believe and achieve mindset hasn't altered.
"Nebraska is a good team," said Shymansky. "There is a reason that they are the No. 4 team in the country, but we showed that we have something out there. We still believe in our team, we still believe we can go over there and win."
While Iowa fell in straight sets, the Hawkeyes stayed with Nebraska in all three sets (25-23, 25-20, and 25-23). The Huskers had only a slight advantage in hitting percentage (.284-.243) and kills (48-42). The match featured 23 ties and six lead changes.
"There are so many positive things for us to take from that match," Shymansky said. "This is the Big Ten. You are going to see teams like this all the time.
"One of the things we are realizing is that we are one of the best teams. We have a right and a reason to expect to come out and compete toe-to-toe with everybody in our league."
Shymansky's team agrees, and they are more than excited for a rematch against the Huskers tonight in Lincoln.
"We can compete with some of the best teams in the country," said freshman Reagan Davey. "Despite losing, we were point-for-point with them the whole way. We aren't scared of this rematch."
Omaha, Nebraska, native Libby Koukol echoes Davey's confidence.
"We learned a lot about both ourselves and Nebraska," said Koukol. "We know what they do and we know how to adjust to it. Our team can do whatever we put our minds to. We are a family, and it shows on the court."
First serve is set for 7 p.m. (CT) from the Bob Devaney Sports Center. Live audio is available on Hawkeye All-Access at hawkeyesports.com.
"A win over the No. 4 team in the country would mean a lot," Davey said. "It would stop the doubts that people have about us. We are a good team, and we are confident we can come out of Nebraska with a win."