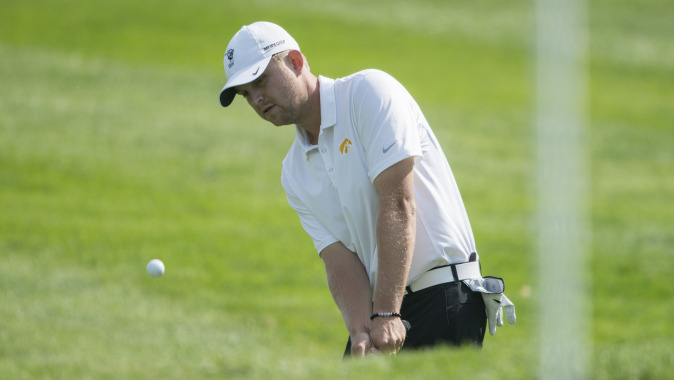 Sept. 26, 2015
Second Round Results

BURLINGTON, Iowa — Saturday's 15-under-par second round performance at the seventh annual GolfWeek Conference Challenge at Spirit Hollow Golf Course has vaulted the University of Iowa men's golf team into first place heading into Sunday's final round. Through 36 holes, the Hawkeyes sit atop the 15-team field at 19-under-par (557; 284, 273). North Carolina State is in second (-12; 564) and Kansas State is in third (-7; 569).
Iowa's second round total (-15; 273) is its second-best 18-hole score in program history. Iowa recorded a 268 (-20) in the first round of the GolfWeek Conference Challenge in 2009, an event the Hawkeyes won with a 54-hole total of 833 (-31).
"We've been practicing and working hard for the last month in order to get ready for this tournament," said UI head coach Tyler Stith. "The guys are playing really well and with a lot of confidence. Today, everything was clicking. We had five scores that were all pretty good."
Three Hawkeyes are among the top-five on the individual leaderboard, including junior Raymond Knoll, who leads the 75-player field (-11; 66, 67). After tying his career best 18-hole score in Friday's opening round (-6; 66), Knoll fired a five-under-par 67 on Saturday.
"I've done a really good job of sticking to my game plan this weekend and not getting away from it," said Knoll. "I just have to stay focused. This golf course is really good at keeping your attention throughout the entire round, and you can never look ahead because once you do, that's when things start going bad.
"I'm not putting myself in bad situations and I'm making birdie putts when I have the opportunities."
Senior Nate Yankovich and junior Carson Schaake were tied for 19th at the end of Friday's first round, and at the end of Saturday, they are both sitting in a tie for fifth place at five-under-par 139.
Yankovich sat five-under par through 10 holes on Saturday before bogeying hole 11. He closed out his second round with birdies on holes 16 and 18, notching the best 18-hole score of his career, a six-under-par 66.
After carding a 73 (+1) on Friday, Schaake fired a six-under-par 66 on Saturday. The Omaha, Nebraska, native collected six birdies in a bogey-free round of golf.
"Today was one of those days where I didn't make many mistakes," said Schaake. "When I did get in trouble, I got back in play, made par out of it and moved on. I'm proud of myself for the way I mentally battled throughout the day. I'm really excited for tomorrow."
Senior Voromate Aussarassakorn's two-round 146 (+2; 72, 74) is tied for 30th.
Freshman Matthew Walker registered a three-over par 75 in the first and second rounds, putting him in a tie for 50th entering Sunday's final round.
"We've still got one more day here," said Stith. "We aren't done yet."
Play at the Golfweek Conference Challenge concludes Sunday with a shotgun start at 8:30 a.m. (CT). Live stats are available at golfstat.com.