Sept. 28, 2015
Notes in PDF Format

THE RECORDS
Iowa is 4-0, with wins over Illinois State (31-14), at Iowa State (31-17), Pittsburgh (27-24) and North Texas (62-16). The Hawkeyes were 7-6 last season, earning a trip to the 2015 TaxSlayer Bowl. Iowa was 4-4 in Big Ten play and 3-2 in nonconference games last season.
Wisconsin is 3-1, having won home games against Miami, Ohio (58-0), Troy (28-3) and Hawaii (28-0). The Badgers dropped a 35-17 neutral site contest to Alabama. Wisconsin was 11-3 a year ago, winning the Big Ten West Division with a 7-1 record.
THE SERIES
Wisconsin holds a 44-42-2 advantage in the series that began with a 44-0 Badger win in 1894. Wisconsin has won the last three meetings to take the series lead, winning 26-24 in Kinnick Stadium a year ago. Iowa is making its first appearance in Camp Randall Stadium since a 20-10 victory in 2009. Wisconsin holds a 26-18-1 advantage in games played in Madison.
THE HEARTLAND TROPHY
Iowa and Wisconsin have battled for the Heartland Trophy since 2004. Wisconsin holds a 5-4 advantage with the Heartland Trophy at stake. The Badgers have possession of the trophy following their 26-24 win last November in Kinnick Stadium.
COACHING RECORDS
Kirk Ferentz is in his 20th year as a college head coach and his 17th year as Iowa's head coach. His career record is 131-106 and he is 119-85 at Iowa. He is the 12th Big Ten Conference coach to win 100 games.
Paul Chryst is in his first year as the Wisconsin head coach and his fourth year as a college head coach. His mark is 3-1 at Wisconsin and 22-20 overall. Chryst was the head coach at Pitt the last three seasons. Chryst was previously a Wisconsin assistant for eight seasons and also played quarterback (1985-87) for the Badgers.
IOWA/WISCONSIN NOTES
• Iowa opens Big Ten play at Wisconsin on Saturday. This marks the 13th time in Kirk Ferentz's 17 years at Iowa that the Hawkeyes open the conference season on the road.
• Iowa head coach Kirk Ferentz is 8-8 in Big Ten openers, including 5-7 on the road and 3-1 at home.
• The Hawkeyes have won their last two conference-season openers, both on the road (24-10 at Purdue in 2014; 23-7 at Minnesota in 2013).
• Iowa head coach Kirk Ferentz has 119 wins as a member of the Big Ten Conference, tying Barry Alvarez (119) for ninth in conference history. Alvarez won 119 games in parts of 18 seasons at Wisconsin. He is the current Wisconsin athletic director and previously served as an assistant coach under Hayden Fry at Iowa.
• Iowa averages 37.8 points per game, No. 2 in the conference. Wisconsin allows 9.5 ppg, also No. 2 in the conference.
• Iowa leads the Big Ten and ranks eighth in the country in third-down conversions. Iowa has converted on 26-of-50 third down attempts (52-percent). Wisconsin's defense ranks fifth in the conference allowing just 31.5-percent third-down conversions.
• Iowa leads the Big Ten in red zone offense. Wisconsin leads the Big Ten in red zone defense. Iowa has scored on 15-of-16 trips to the red zone (14 TDs, 1 FG). Wisconsin opponents have made just five trips to the red zone, scoring two touchdowns and one field goal.
TAKING 151 TO 151
When the Hawkeyes travel north on Highway 151 this weekend, they'll do so with an offense that has totaled 151 points through four games, the second highest total in the conference (Indiana, 153). The 151 points scored (37.8 ppg) through four games is Iowa's highest total since 2011, when it also scored 151 points (34, 41, 31, 45). The most points scored through four games in the Kirk Ferentz era is 165 by the 2002 team that finished 11-2 overall and set a school record for scoring in a season (484 points).
FERENTZ TIES ALVAREZ
Head coach Kirk Ferentz has 119 wins as a member of the Big Ten Conference, tying Barry Alvarez (119) for ninth in conference history. Alvarez won 119 games in parts of 18 seasons at Wisconsin. Ferentz is three wins shy of tying Lloyd Carr for eighth all-time (122). Ferentz has 68 Big Ten wins, the 10th most in conference history. He trails John Cooper (Ohio State) by two wins for ninth all-time. Only eight coaches rank in the top 10 in both categories: overall wins as a member of the Big Ten, and conference wins. The others include Woody Hayes (OSU), Amos Alonzo Stagg (CHI), Bo Schembechler (MICH), Hayden Fry (IOWA), Robert Zuppke (ILL), Lloyd Carr (MICH), and Alvarez (WIS). Ferentz also has six bowl wins as a member of the Big Ten, tying Fry and Carr for No. 2 all-time. Only Alvarez has more (nine).
WE'LL GO FIRST
Iowa received the opening kickoff in all four games this season. The Hawkeyes have scored touchdowns on two of four opening drives and has outscored its opponents 27-3 in the first quarter. In 17 seasons as Iowa's head coach, Kirk Ferentz and the Hawkeyes received the opening kickoff in 166-of-204 games (99-67). Iowa has started the game on defense in 38-of-204 games under Ferentz (20-18).
THE FOURTH QUARTER
QB C.J. Beathard and the Hawkeyes' rush defense have dominated the fourth quarter in 2015. Iowa's rush defense, the No. 4 defense in the conference, has yielded 59 total rushing yards in the fourth quarter this season. That includes a 55-yard effort from North Texas against Iowa reserves.
Beathard is 14-of-17 passing for 206 yards and one touchdown. His 142.6 quarterback rating in the fourth quarter leads the conference. He has also rushed six times for 35 yards and one touchdown in the fourth quarter this season. He has engineered game-winning drives in the fourth quarter two times this season (Iowa State, Pitt). He was 4-of-4 for 46 yards and a touchdown against Iowa State, and he rushed for 27 yards on three carries to set up K Marshall Koehn's 57-yard game winning field goal against Pitt. In Iowa's last five games, including the 2015 TaxSlayer Bowl, Beathard's fourth quarter numbers include 21-of-24 passing for 301 yards and three touchdowns, and eight carries for 73 yards and one touchdown. Beathard did not play in the fourth quarter against North Texas.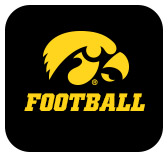 STARTING 5
The Hawkeyes are 4-0 for the fourth time under Kirk Ferentz. A win Saturday would be Iowa's second 5-0 start in the Ferentz era (2000). The 2009 Hawkeyes won their first nine games, finished 11-2 overall, and won the 2010 FedEx Orange Bowl. Iowa enters the conference portion of its schedule undefeated for the fourth time since 1999. The Hawkeyes were 3-0 in 2009 and 2006, and 4-0 in 2003.
RUSH DEFENSE… NO TOUCHDOWNS FOR YOU
Iowa is one of two schools yet to allow a rushing touchdown (Navy). The Hawkeyes yield an average of 84.0 rushing yards per game, fourth best in the Big Ten and 12th nationally. Iowa limits its opponents to 2.65 yards per carry (82 attempts, 153 yards), 12th best in the country.
2-FOR-2 AGAINST POWER 5
Iowa recorded two wins against Power 5 schools in its nonconference schedule: Iowa State, 31-17, and Pitt, 27-24. The Hawkeyes were one of only two Big Ten schools with two wins against teams from a Power 5 league. The other was Northwestern (Stanford, Duke).
6 THE OTHER WAY
Iowa returned two interceptions for touchdowns in Week 4 against North Texas. LB Josey Jewell recorded the first interception of his career, returning it 34 yards for a touchdown. LB Bo Bower returned an interception 88 yards for a touchdown in the fourth quarter. It is the seventh longest interception return in school history. Iowa has at least one interception returned for a touchdown in each of the last eight seasons, and 12 of the last 14 seasons. The last time Iowa returned two interceptions for touchdown was 2013 against Western Michigan (both by B.J. Lowery).
BAPTISM BY FIRE
Iowa starting offensive tackles LT Boone Myers and RT Ike Boettger entered 2015 with one combined career start (Boettger started as a second tight end against Wisconsin in 2014). The sophomores replace a pair of NFL lineman — 2014 Outland Trophy winner LT Brandon Scherff (Washington Redskins) and RT Andrew Donnal (St. Louis Rams). Myers joined the program as a walk-on and was put on scholarship prior to the 2014 season. He saw action in four games last season. Boettger joined the team as a tight end but was moved to offensive line in 2013. He saw action in seven games as a redshirt freshman in 2014. Iowa has allowed only five sacks and leads the Big Ten with 12 rushing touchdowns through four games in 2015.
NEXT GAME
Iowa returns home for Homecoming, hosting Illinois (11 a.m., TBA). Wisconsin travels to Nebraska.