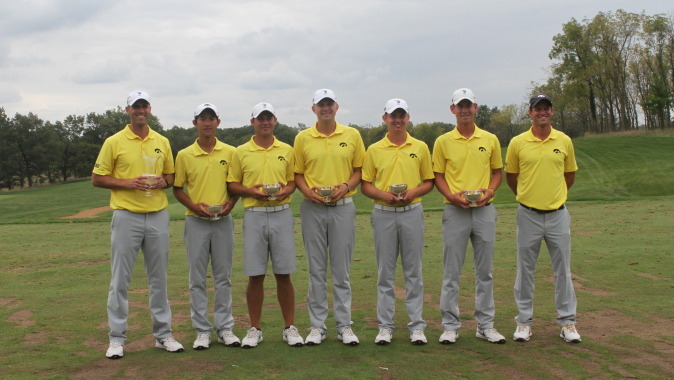 Sept. 29, 2015
Editor's Note: The following first appeared in the University of Iowa's Hawk Talk Daily, an e-newsletter that offers a daily look at the Iowa Hawkeyes, delivered free each morning to thousands of fans of the Hawkeyes worldwide. To receive daily news from the Iowa Hawkeyes, sign up HERE.
By BRANDEE BRITT
IOWA CITY, Iowa — As second-year University of Iowa men's golf coach Tyler Stith walked into his office on Monday, his team's 2015 GolfWeek Conference Challenge victory finally started to sink in.
The team title was not only the first for Stith as head coach, but also the first for the program since Iowa won the Hawkeye-GRE Invitational on April 13, 2014.
"It's still settling in a little bit," said Stith. "It's something that we've been talking about for a long time. To be able to share it with these guys at a course (Sprit Hollow) that is very special to all of us was a cool experience."
The Hawkeyes took advantage of familiar surroundings to defeat a talented 15-team field. The Hawkeyes tallied a 54-hole total of 842 (-22) at Spirit Hollow Golf Course in Burlington, Iowa — a course the team frequently practices on throughout the year. The field included Louisiana State, the defending NCAA team champions, and NCAA individual and U.S. Amateur champion Bryson DeChambeau of Southern Methodist.
"This win shows that we have a good team," Stith said. "In order to call yourself a great team, you have to prove it by beating other great teams. We did that this weekend."
Following Friday's first round, the Hawkeyes sat in third place — 15 strokes behind first-place North Carolina State.
"We just stayed committed to our process and game plan," said Stith. "You have to be disciplined as a player and as coaches to stick to your game plan and strategy, because if you are scoreboard watching so much can change."
The mindset paid off as the Hawkeyes carded the second-best round in program history on Saturday (-15; 273) to gain a seven-stroke lead.
Iowa held on to that lead Sunday, beating the Wolfpack by three strokes. Junior Raymond Knoll led the way for the Hawkeyes, carding a program-best, 54-hole score of 205 (-11) to claim co-medalist honors.
"It felt good to finally get my first win," said Knoll. "I have put in a lot of work to get to this moment. Coming into this year I had a different mentality and I am playing with a lot more confidence. Knowing that all the hard work is finally paying off is nice."
Senior Nate Yankovich and junior Carson Schaake each notched top-10 finishes. Yankovich tied for fifth place with a three-round score of 209 (-7; 73, 66, 70), while Schaake, the defending Big Ten individual champion, tied for seventh with a 54-hole total of 210 (-6; 73, 66, 71).
"Nate and Carson both entered that last round believing that if they played well they could win," said Stith. "That's how this team is going to continue to move forward. They have teammates who are pushing them in practice and pushing them in competition. That's what all the best teams do."
While the feeling of team victory is still new, Stith is confident that it's just the beginning for his talented squad.
"This win speaks volumes about the quality we have on our team," Stith said. "I know it gives our guys a lot of confidence for the rest of our events."