Oct. 6, 2015
By DARREN MILLER
hawkeyesports.com
IOWA CITY, Iowa — Did you hear the one about the chemist who was reading a book about helium? He couldn't put it down.
References to bad jokes and chemistry made their way into University of Iowa head coach Kirk Ferentz's weekly news conference Tuesday in the All-American Room of the Stew and LeNore Hansen Football Performance Center.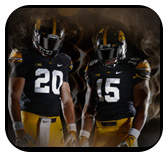 Whether it is the new, old or old, new Ferentz, he isn't losing sight of turning the page quickly after a physical 10-6 road victory at Wisconsin on Oct. 3. Despite returning to Kinnick Stadium on Oct. 10 against Illinois, Ferentz emphasized that the Hawkeyes are "not home yet."
"We've played five ball games, but I think we're doing well right now and the challenge is to get a sixth good win," he said.
Leadership and team harmony are at high levels inside the Richard O. Jacobson Football Operations Building. The growth and cohesiveness of the Hawkeyes have turned out better than many of Ferentz's chemistry experiments at Upper St. Clair (Pennsylvania) High School in the 1970s.
"(My teacher would) stand right there and watch everything I did and I baffled her," Ferentz said. "I was the one student that really frustrated her. So you can't control everything, but you try to do what you can to enhance things and see if you can't get some growth."
Undefeated Iowa is back in the national rankings for the first time since 2010 (at No. 22); Ferentz is more concerned about playing "good team football." That can be seen by the three Hawkeyes who have been named Player of the Week in the Big Ten. C.J. Beathard received the award for offense Sept. 14, Marshall Koehn for special teams Sept. 21, and Desmond King for defense Oct. 5.
"One segment is feeding off the other," Ferentz said.
With 16 Big Ten seasons and two league championships under his belt, Ferentz knows that to be successful in league play, a team needs to win in hostile territory (like at Camp Randall Stadium) and it needs to refocus quickly each week.
There should be no overlooking an Illinois team that lost its head coach a week before the season but is off to a 4-1 start and has won three consecutive conference games. The Illini are coached by Bill Cubit, who was head coach at Western Michigan in 2007 when the Broncos defeated Iowa, 28-19, and kept the Hawkeyes from a bowl berth.
"I've got a lot of respect for Bill Cubit and have had for a long time as a football coach," Ferentz said. "He brought a team in (Kinnick Stadium) and they beat our butts pretty good. My respect for him grew even more after that.
| | |
| --- | --- |
| | "It's like everything you do and about anything that's important in life. You get back to the basics. We haven't split atoms or anything like that. It's just trying to do everything a little bit better." |
"It's a credit to everybody there — their players and the rest of the coaching staff — they're playing well. They're a better football team than they were last November."
Iowa defeated Illinois 30-14 on Nov. 15 last season in Memorial Stadium in Champaign. After that, the Illini knocked off Penn State, 16-14, and Northwestern, 47-33, to earn a bid to the Heart of Dallas Bowl. In the 2015 Big Ten opener, Illinois rallied past Nebraska, 14-13.
"When you watch (Illinois) on film, they're just a better football team in every regard," Ferentz said. "They're playing tighter and cleaner and the statistics reflect that."
The Illini are third in the Big Ten in pass offense (244.4 yards per game) and tied with Iowa for first with seven interceptions.
Although not planned, Iowa's new weekly practice schedule that begins Monday morning instead of Tuesday afternoon requires quick focus on the next opponent.
"You're right back to work, we're on the field Monday morning," Ferentz said. "So good, bad or indifferent, you have to move on. You have to flip the page and get moving on that next opponent, and I think of it as a positive."
The Hawkeyes are 5-0 for just the third time since 1986 and the secret is that the new thing is the old thing.
"It's like everything you do and about anything that's important in life," Ferentz said. "You get back to the basics. We haven't split atoms or anything like that. It's just trying to do everything a little bit better."
The 2015 formula has been successful so far and Ferentz credits the players for Iowa's quick start. As for the head coach, he insists that he hasn't changed much from last year to this.
"I tell the same bad jokes…when I think of one," he said with a smile.