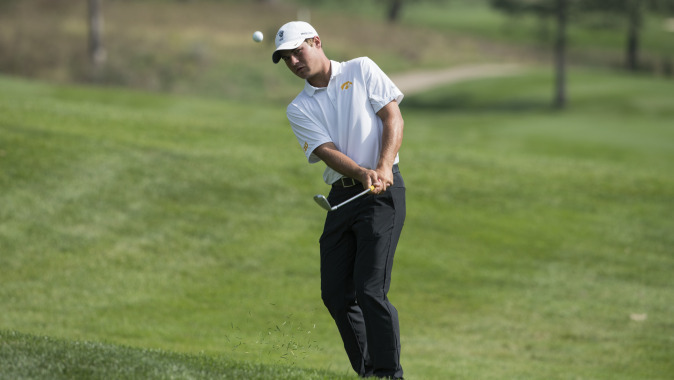 Oct. 8, 2015
Weekly Release

THIS WEEK
The University of Iowa men's golf team travels to Baton Rouge, Louisiana, this weekend to compete in the seventh annual David Toms Intercollegiate held at the University Club. The two-day tournament, hosted by LSU, begins with an 8:30 a.m. (CT) shotgun start on Saturday (36 holes) and concludes on Sunday (18 holes). Live scoring is available at golfstat.com.
LINK UP WITH THE HAWKEYES
For an inside look at the men's golf program and to access exclusive coverage, "like" Hawkeye men's golf on Facebook and follow @IowaHawkeyeGolf on Twitter and Instagram.
THE FIELD
Of the 14 teams competing at this year's David Tom's Intercollegiate, three teams are ranked inside the top-50 of the GolfWeek/Sagarin rankings (last updated on Oct. 8). The 34th-ranked Hawkeyes are the Big Ten's lone representative and the second-highest ranked team in the field. Liberty is ranked 26th, while host LSU is ranked 40th. The team field also includes Central Arkansas, DePaul, Iowa State, Kansas State, Louisiana Tech, Louisiana-Lafayette, Louisiana-Monroe, Navy, Penn, Southeastern Louisiana, and Southern Illinois.
LSU, Kansas State, and Southern Illinois each competed at the GolfWeek Conference Challenge (Sept. 25-27) earlier this season.
THE COURSE
This weekend's two-day event will be played at LSU's University Club, a 7,234 yard par 72 golf course created under the watchful eye of PGA Champion David Toms and LSU Alumni Jim Lipe. Home to LSU golf, the University Club presents a challenge to the best in the country. The course winds through beautiful Louisiana Wetlands while providing stunning views and exciting golf to a membership rich in tradition for LSU Athletics.
TOURNAMENT HISTORY
This weekend marks the first time the Hawkeyes will compete at the David Tom's Intercollegiate, an event that has been around since 2009. Central Arkansas won last year's event and looks to repeat this year. Iowa State has finished the event in the top three in each of the past two years.
THE LINEUP
At the top of the Hawkeye line-up in the number one spot is junior Raymond Knoll followed by senior Nate Yankovich. Junior Carson Schaake, senior Voromate Aussarassakorn and freshman Matthew Walker round out the Iowa lineup.
A HISTORIC WEEKEND
The Hawkeyes claimed the team title at the 2015 GolfWeek Conference Challenge (Sept. 25-27), carding a 54-hole total of 842 (-22) — the fifth-best 54-hole score in program history. The title was the first for Iowa under the guidance of second-year head coach Tyler Stith, and first since winning the Hawkeye-GRE Invitational on April 13, 2014.
Junior Raymond Knoll claimed co-medalist honors with a 54-hole total of 205 (-11; 66, 67, 72) — the lowest three-round total in program history. The title was the first of Knoll's collegiate career.
Senior Nate Yankovich and junior Carson Schaake each finished within the top 10. Yankovich tied for fifth place with a three-round 209 (-7; 73, 66, 70). His second-round 66 was the best 18-hole performance of his career. Schaake tied for seventh, finishing the weekend with a three-round 210 (-6; 73, 66, 71).
KNOLL AMONG THE BEST
Junior Raymond Knoll is ranked 47th in GolfWeek's Collegiate Individual rankings (last updated on Oct. 8) and is one of five Big Ten individuals ranked in the top 50. Illinois paces the Big Ten with three ranked individuals — Thomas Detry (6), Charlie Danielson (19), and Nick Hardy (24). Liberty's Isaiah Logue (22) and Iowa State's Nick Voke (37) will both be competing at this weekend's David Tom's Intercollegiate.
3 HAWKEYES ON B1G PLAYERS TO WATCH LIST
Seniors Nate Yankovich and sophomores Raymond Knoll and Carson Schaake have been selected to the 2015-16 Big Ten Men's Golfers to Watch List.
Yankovich, a senior, competed in seven tournaments last year, averaging 75.29 strokes per round. The Blacklick, Ohio, native was second on the team with four top-20 finishes last season, including a season-best 10th place finish at the Hawkeye-Great River Entertainment Invitational.
Knoll, a junior from Naperville, Illinois, earned second team All-Big Ten and Division I PING All-Midwest Regional team honors in 2015. He was Iowa's top finisher in two events last year.
A Division I PING All-Midwest Regional Team selection, Schaake carried a team-best stroke average of 71.17 — the second-best total in program history. He provided Iowa's top individual finish in 7-of-10 stroke play tournaments, while recording four top-10 finishes and 18 rounds at or below par. The Omaha, Nebraska, native was a first-team All-Big Ten honoree, and was co-champion at last year's Big Ten Tournament.
HAWKEYE NEWCOMERS
Iowa's 2015-16 roster features three new faces and they each hail from the state of Iowa — Aaron DeNucci (Clive), Matthew Walker (Ottumwa), and Aaron Wirt (Des Moines).
7 STRAIGHT NCAA APPEARANCES
Iowa has advanced to NCAA competition in each of the last seven seasons, joining Illinois as the only Big Ten teams selected to NCAA Regional competition in each of the last seven seasons. Iowa has advanced to the NCAA Championship finals three times in the last seven years (2009, 2011, 2012).
A PROGRAM ON THE RISE
Iowa has won 12 tournaments since 2008 and has had 15 individual medalists since 2009, including Carson Schaake, who was crowned individual co-champion at last year's Big Ten Championships and Raymond Knoll who won this year's GolfWeek Conference Challenge. The Hawkeyes have also had three All-Americans since 2008. Nineteen Iowa players have been named to the all-region team since 2009. Last season, Brian Bullington, Knoll, and Schaake each earned Division I PING All-Midwest Regional honors.
LOOKING AHEAD
Following the David Toms Intercollegiate, the Hawkeyes travel to Atlanta for the U.S. Collegiate Championship. The three-day tournament, hosted by Georgia Tech, begins on Oct. 16.