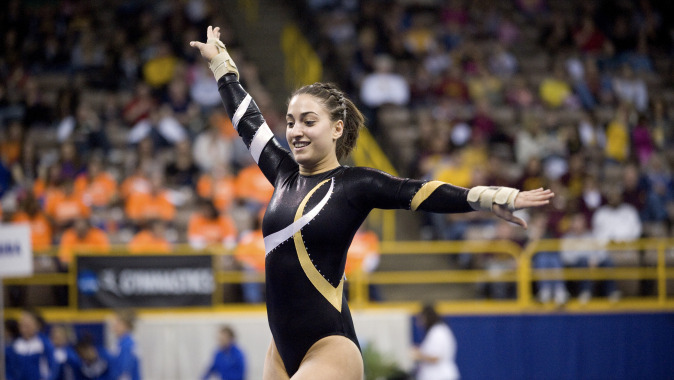 Oct. 9, 2015
Editor's Note: The following first appeared in the University of Iowa's Hawk Talk Daily, an e-newsletter that offers a daily look at the Iowa Hawkeyes, delivered free each morning to thousands of fans of the Hawkeyes worldwide. To receive daily news from the Iowa Hawkeyes, sign up HERE.
By JIL PRICE
IOWA CITY, Iowa — One of the University of Iowa's own is looking to add elite international accomplishments to her illustrious athletic career.
Houry Gebeshian, a Hawkeye women's gymnast from 2008-11, is set to compete in the 2015 World Gymnastics Championships in Glasgow, Scotland, from Oct. 23-Nov. 1. She will challenge more than 500 gymnasts, a record number of entries, for world titles with the goal of qualifying for the 2016 Olympic Games in Rio as an individual representative for the Republic of Armenia.
"Not many people in the world get this chance and I'm fortunate to be able to take this opportunity and pursue it as far as I can," Gebeshian said. "I'm on the older side of the sport so to be able to do it now is amazing.
"I'm representing a country on a huge stage, and it's such an honor to be able to do that."
The 26-year-old Newton, Massachusetts, native, who is a citizen of both the U.S. and the Republic of Armenia, is no stranger to the World Championships. Gebeshian, who was working through an injury at the time, missed qualification for the 2012 Olympics by just three positions.
"It was very disappointing when I didn't make it through four years ago," Gebeshian said. "It's a motivation for me knowing how close I was last time around, even with an injury.
"I know if I stay healthy, hit my routines, and go through it clean, I should be able to qualify. That's my No. 1 goal; I want to make it to the next step. This time around, I feel like nothing is going to stop me."
Motivated by her passion for gymnastics and another opportunity to qualify for the Olympic Games, Gebeshian began training on her own at Gymnastics World in Broadview Heights, Ohio. The 26-year-old juggles her training and her occupation as a physician's assistant successfully, proving it is never too late to pursue your dreams.
Gebeshian credits the UI women's gymnastics program for helping her lay the foundation for where she is now and giving her the tools necessary to achieve success. Under current UI head coach Larissa Libby, Gebeshian bloomed as a Hawkeye in-and-out of competition.
"Everyone always says college is the best four years of your life, and I would agree with that," said Gebeshian, who earned a bachelor of science in athletic training in 2011. "I am so grateful that I went to Iowa. The education I received there was amazing, the gymnastics I was able to accomplish was amazing, the girls on the team became my best friends, and it has all shaped me into the woman I am today.
"I owe a lot to Larissa and the university in general because they molded me into who I am. We had a great team atmosphere and wonderful coaches. I'm very fortunate to have found Iowa and for Iowa to have found me."
Gebeshian earned three All-Big Ten honors during her career, including a first team nod in 2009 and second team distinction in 2010 and 2011. The 2010 Big Ten individual champion on balance beam is also a three-time Academic All-American and Academic All-Big Ten honoree.
Several of Gebeshian's scores remain in the Iowa record book, as she is tied for second all-time with a 9.950 effort on balance beam at the Big Ten Championship in 2010 and tied for fourth all-time with a vault score of 9.925 against Denver in 2011.
Gebeshian arrives in Glasgow on Oct. 18, where she will have a week to train and prepare for the World Championships. She is set to compete on Oct. 24 in the final qualifying session. To view the schedule and gain more information on the championships, visit 2015worldgymnastics.com.
Hawkeye fans interested in supporting Gebeshian and follow her journey can "like" her official fan page (Houry Gebeshian Armenian Gymnast) on Facebook. It is also possible to keep up with her training on her YouTube channel.