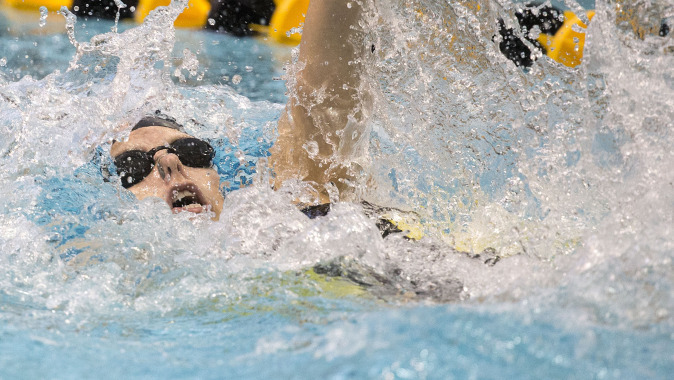 Oct. 12, 2015
IOWA CITY, Iowa — Meghan Lavelle is a sophomore on the University of Iowa women's swimming and diving team. The Chicago native was a member of the school-record 400-medley and 200-free relays last season. She also set team PRs in the 100 and 200 backstroke and 400-free relay.
How did you handle the almost instant success you enjoyed last season?
One of the keys is the team atmosphere we have within our group. I have a lot of fun in the backstroke group with everyone pushing me and racing me to be my best. Another part would be the coaching staff, they all look out for me and help me get to the point where I can reach full potential.
Where do you the most improvement for you between last season and now?
I want to improve most on my under-waters. I'm not the strongest at that but the coaches have been persistent with making sure I am doing them right. (At every wall you will do at least six to eight under-water kicks. It is usually the strongest athletes that can hold their breath the longest and use their leg energy to get as far as they can underwater without having to use energy to swim yet.) I'm am lifting heavy in the weight room to make sure my progress toward my goals are in order.
Has anything surprised you about being a member of the University of Iowa swimming and diving program?
My first meet against the University of Michigan. My first event I was swimming the 400 medley relay and I had to swim the 400 back. It was the first event of the whole meet and season and I was the first one to get into the water. My nerves were going crazy and I went near a best time because I knew my team was behind me and supporting me.
What are your goals this season?
Make a final in the Big Ten (championship) in either the 100 or 200 back. As a freshman I was in the B Final, which is places 9-16, and the A Final are places 1-8. I would love to qualify for NCAAs this year, the elite athletes go there. It is a work in progress.
How did you spend the summer?
I had a good summer season and I believe that can carry over to sophomore year. I wasn't taking that many classes over summer so I was able to focus on swimming, diet, weight lifting and being myself. I stayed here from May until August and went back to Chicago to compete in one more race to qualify for the Olympics.
Can you pick a highlight from your freshman season?
The Iowa State meet. The week before was the Hawkeye Invite and that is what we really taper for and I didn't swim as well as I wanted to because I was nervous and anxious about my races. The Iowa State is a big meet in general; I suited up for that meet and I got all best times and won all my events. It was nice because I was racing a couple upperclassmen from Iowa State who were seeded ahead of me and I was able to put up a good fight.
What are you pursuing academically?
I am art major with a BFA (specific focus) in graphic design. I like being able to express myself without having necessary rules to do so. With math problems you are either correct or not. With art you are able to do whatever you want without base guideline or rules; there is nothing really wrong in art.
Why did you select the University of Iowa?
I knew I wanted to stay in the Big Ten Conference because I had relatives that swam in the Big Ten. (A cousin swam for the University of Illinois and another cousin swims at Michigan State). Iowa stuck out to me because the team was welcoming and the stability of the coaching staff.