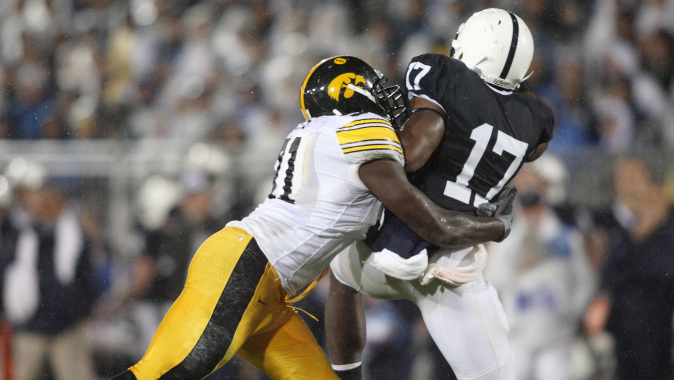 Oct. 19, 2015
Editor's Note: The following first appeared in the University of Iowa's Hawk Talk Daily, an e-newsletter that offers a daily look at the Iowa Hawkeyes, delivered free each morning to thousands of fans of the Hawkeyes worldwide. To receive daily news from the Iowa Hawkeyes, sign up HERE.
By DARREN MILLER
hawkeyesports.com
IOWA CITY, Iowa — Now that the University of Iowa football team is off to a 7-0 start, comparisons are being made to the last time the Hawkeyes sprinted to seven straight wins in 2009.
Iowa began 9-0 in 2009 and finished 11-2 with a victory over Georgia Tech in the FedEx Orange Bowl.
What does UI head coach Kirk Ferentz think?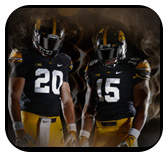 "This team is all over the place for me," he said. "For a while I felt the 2008 team (that finished 9-4), although our records are very different. In both 2013 (8-5) and 2008, we were coming off non-bowl seasons.
"Now it feels maybe a little like 2009, but I'm kind of in the 2004 area (10-2) because we keep stepping on land mines and somehow find a way to win. (The 2015 team) is kind of like a hodge-podge of teams, but those are all good teams to compare to."
This is how the 2009 and 2015 teams stack up on paper after the first seven games:
Rushing offense per game: 120.9 yards in 2009, 214.4 in 2015.
Advantage: 2015
Rushing defense per game: 127.6 in 2009, 74.1 in 2015.
Advantage: 2015
Passing offense per game: 230.1 in 2009, 206.7 in 2015.
Advantage: 2009
Passing defense per game: 167 in 2009, 220.1 in 2015.
Advantage: 2009
Turnover ratio: +11 in 2009 (11 turnovers, 22 takeaways), +7 in 2015 (eight turnovers, 15 takeaways).
Advantage: 2009
Here is a recap of the first seven games of 2009:
Game 1 (Home)
Sept. 5, 2009
Iowa 17, Northern Iowa 16
Hawkeyes Broderick Binns and Jeremiha Hunter blocked field goal attempts in the final 0:07 to preserve the win. Quarterback Ricky Stanzi completed 22-of-34 passes for 242 yards and a touchdown; tight end Tony Moeaki caught 10 passes for 83 yards and a touchdown. Pat Angerer and Brett Greenwood led the Hawkeyes with 12 tackles apiece.
Game 2 (Away)
Sept. 12, 2009
Iowa 35, Iowa State 3
Brandon Wegher rushed for 101 yards and Stanzi threw for 197 yards and four touchdowns. On defense, Tyler Sash had 10 tackles and three interceptions.
Game 3 (Home)
Sept. 19, 2009
Iowa 27, Arizona 17
Adam Robinson gained 101 yards with two touchdowns on the ground and Stanzi threw for 205 yards (Colin Sandeman made five catches). Hunter compiled a game-high seven tackles and Adrian Clayborn made six stops with a sack and three quarterback hurries.
Game 4 (Away)
Sept. 26, 2009
Iowa 21, Penn State 10
Iowa used four second-half turnovers, overcame a 10-0 deficit, and stunned 109,316 fans at Beaver Stadium. The Hawkeyes took the lead for good on Clayborn's 53-yard blocked punt return in the rain. Angerer made 14 tackles with a forced fumble and interception.
Game 5 (Home)
Oct. 3, 2009
Iowa 24, Arkansas State 21
Stanzi completed 18-of-26 passes for 296 yards and three touchdowns; Marvin McNutt caught four passes for 121 yards and two scores. Angerer made 11 tackles. The Hawkeyes scored on their first two drives to take a 14-0 lead.
Game 6 (Homecoming)
Oct. 10, 2009
Iowa 30, Michigan 28
Iowa scored six points off five Wolverine turnovers. Stanzi passed for 284 yards and two touchdowns; his main target was Moeaki, who hauled in six passes for 105 yards and two touchdowns. Hunter made 12 tackles with an interception and fumble recovery.
Game 7 (Away)
Oct. 17, 2009
Iowa 20, Wisconsin 10
The Hawkeyes scored 20 unanswered points to win its 11th consecutive game dating back to Nov. 1, 2008. Stanzi completed 17-of-23 passes for 218 yards and a touchdown, Robinson rushed 20 times for 91 yards and a touchdown, and Derrell Johnson-Koulianos caught eight passes for 113 yards. Angerer led the defense with nine tackles and a sack; Amari Spievey intercepted two passes.